Texas needs more than $61 billion in additional federal assistance to rebuild the public infrastructure of the Texas Gulf Coast damaged or destroyed by Hurricane Harvey, according to Commissioner John Sharp with the Governor's Commission to Rebuild Texas.
Governor Greg Abbott and other top Texas leaders made the request October 31 during a trip to Washington D.C. to meet with federal officials and lawmakers.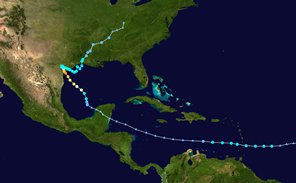 Hurricane Harvey stalled over Texas and in some places dropped more than 50 inches of rain. Public Infrastructure Only
Hurricane Harvey caused an estimated $180 billion in damages. The $61 billion represents the portion for public infrastructure such as roads, bridges, schools, government buildings and other public facilities. It also includes projects designed to mitigate the impact of future storms on the Texas Gulf Coast.
(Read "Might Harvey Hasten the Ike Dike?")
The $61 billion would be above current expenditures by the Federal Emergency Management Administration (FEMA) and does not include the cost of temporary and permanent housing needs for individuals, which is overseen by Commissioner George P. Bush and the General Land Office, not the Governor's Commission to Rebuild Texas.
On September 7, Abbot asked Texas A&M University Chancellor John Sharp to head a group to oversee rebuilding communities along the Gulf Coast damaged by Hurricane Harvey. The group's main focus is public infrastructure in the affected counties.
Of the $61 billion being sought, 60 percent is for flood control, 33 percent is to buy out and elevate houses and buildings in flood-prone areas and the remainder for hazard mitigation, water utilities as well as roads and bridges.
(Read "Flood-Prone Houston's Drainage Grid Is 'Obsolete.'")
The $61 billion was arrived at from surveys submitted by mayors and county judges listing their communities' needs, plus U.S. Army Corps of Engineer projects that could mitigate the potential for future storm damage.
Snapshot
"The $61 billion represents a snapshot at this time as the request will evolve as we continue to work with mayors, county judges and other local officials to document their communities' needs for public infrastructure," says Commissioner Sharp.
The Commission's staff refined the data with the help of a panel of experts selected from the state's university systems for their expertise in coastal flooding and disaster mitigation.
"This is a 'bottoms up' process. We rely on the county judges and mayors to tell us what their communities need," Commissioner Sharp said.