The days of the poliovirus may finally be numbered, opine researchers from University of Queensland, Australia. A microarray patch delivery platform previously developed at the university was demonstrated to provide more effective vaccine administration relative to traditional needle and syringe options.
The Nanopatch contains an ultra-high density array (10,000/cm2) of short (~230 μm) microprojections that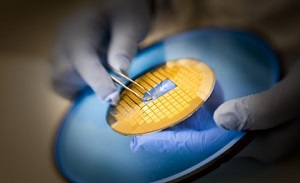 The Nanopatch targets cells in the skin's outer layers. (Source: University of Queensland)delivers dry coated vaccine into the skin. The device induces robust immune system activation by targeting the vaccine to the abundant immunological cells immediately below the surface of the skin. Administration to the skin's outer layers, rather than muscle, results in a more efficient vaccine delivery system.
Tests with animal models showed the Nanopatch enhanced responses to all three types of inactivated poliovirus vaccines (IPV) – a necessary advancement from using the current live oral vaccine.
"A simple, easy-to-administer polio Nanopatch vaccine could increase the availability of the IPV vaccine and facilitate its administration in door-to-door and mass vaccination campaigns," said Dr. David Muller of the university's Australian Institute for Biotechnology and Nanotechnology. "As recently as 1988, more than 350,000 cases occurred every year in more than 125 endemic countries. Concerted efforts to eradicate the disease have reduced incidence by more than 99 per cent. Efforts are being intensified to eradicate the remaining strains of transmission once and for all."
The Nanopatch is being commercialized by biotechnology company Vaxxas Pty Ltd.