Super-Jumbo A380 Suffers Engine Failure in Flight
David Wagman | October 02, 2017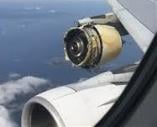 Passenger photo shows the damaged engine. Source: NBC NewsAn Air France flight from Paris to Los Angeles made an emergency landing in eastern Canada on September 30 after one of its four engines sustained "serious damage" over the Atlantic, the airline said.
Air France Flight 66, originating at Paris Charles de Gaulle Airport and destined for Los Angeles, landed at Goose Bay in Labrador at 1542 GMT, the airline said, and no one was hurt in the incident.
The engine is based on the GE90-110B/115B core and contains a Pratt & Whitney fan and low-pressure system design. It is built by Engine Alliance, a joint venture between General Electric and Pratt & Whitney.
"The regularly trained pilots and cabin crew handled this serious incident perfectly," the airline said in a statement.
The aircraft involved was an Airbus 380 that was about seven years old.
The engine design includes a two-spool high-bypass turbofan engine that is 4.92 m in length from its spinner to its flange. The engine is 3.16 m in diameter and has a dry weight of 6,712 kg.
Compressor includes 24 swept wide-chord hollow titanium fan blades, 8.8:1 by-pass ratio; five-stage low-pressure axial compressor; nine-stage high-pressure axial compressor. The engine also uses a two-stage high-pressure turbine, boltless architecture, single crystal blades, split-blade cooling and thermal barrier coatings, axial flow; and six-stage low-pressure axial flow.
One of the Rolls Royce engines on a Qantas A380 suffered mid-engine damage in 2010 after taking off from Singapore. The November 2010 incident prompted the grounding of the entire Qantas A380 fleet for more than three weeks, Reuters reported.