Pratt & Whitney to Use 3D Printing for Some Engine Parts
Engineering360 News Desk | April 07, 2014
Pratt & Whitney, an American aerospace manufacturer, says it will deliver jet engine parts produced using additive manufacturing, also known as 3D printing.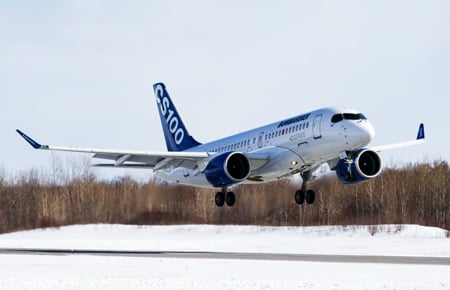 Bombardia CSeries. Source: cseries.comThe company says it will be among the first to use 3D printing to make compressor stators and synch ring brackets for its PurePower PW1500G engines, which power the Bombardier CSeries aircraft family. A subsidiary of United Technology, Pratt & Whitney says it has made more than 100,000 prototype parts over the past 25 years using additive manufacturing techniques.
"Additive manufacturing offers significant benefits to the production of jet engines," says Lynn Gambill, chief engineer, Manufacturing Engineering and Global Services.
During production tests, the company has accomplished up to 15-month lead-time savings compared to traditional manufacturing techniques, and also reduced the total weight by up to 50%.
Related manufacturing technologies that will be used in the PurePower engine production include metal injection molding, electron beam melt and laser powder bed fusion, including direct metal laser sintering.
Pratt & Whitney also plans to invest further in 3D printing research—the Pratt & Whitney Additive Manufacturing Innovation Center has more than $4.5 million invested and provides educational opportunities for manufacturing engineers.
"We are a vertically integrated additive manufacturing producer with our own metal powder source and the printers necessary to create parts using this innovative technology," says Tom Prete, Pratt & Whitney's engineering vice president. "As a technology leader, we are intrigued by the potential of additive manufacturing to support our suite of technologies and benefits to customers and the global aerospace industry."