Audi's first entry in the Formula E series entry is the e-tron FE04, featuring a carbon fiber monocoque, two roll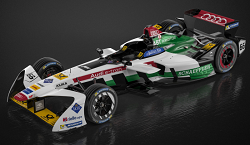 The combination of the motor and transmission is the centerpiece of the Audi e-tron FE04. Source: Audibars and carbon fiber reinforced polymer crash structures at the front, rear and sides.
Power to the Audi e-tron FE04 is supplied by a 200 kg (441 lb.) lithium-ion battery with 34 kWh capacity developed by Williams Advanced Engineering.
To transmit the power to the wheels, Audi Sport ABT Schaeffler is using a high-efficiency transmission with one instead of the previous three gears. A central display provides all the key information on the condition of the motor generator unit, the system temperatures, which are particularly important with an electrically operated race car, and the current charge state of the battery.
The Audi e-tron FE04 will make its racing debut at the Formula E season opener in Hong Kong on December 2, 2017, but the vehicle is in the final evolution of the first Formula E era. In the fifth season slated for fall/winter of 2018, a completely new design of a specification chassis will be used that will radically differ from all single-seater cars known to date. The battery to be used then will have twice the capacity of the current one so that the car charge currently required will no longer be necessary and the drivers will contest the race in only one car.