A plant-based ink used for hundreds of years in China by calligraphers and artists may also contribute to the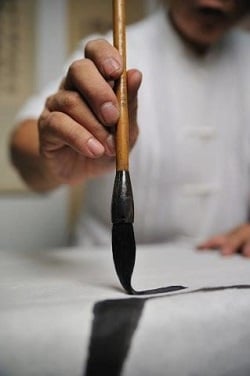 Traditional Chinese ink is made of nanoparticles and thin layers of carbon that could help treat cancer. Source: toonman/Shutterstock.cominactivation of cancer cells.
Researchers tested Hu-Kaiwen ink as an agent in photothermal therapy, an emerging treatment option in which nanomaterials are injected and accumulate in cancer cells. The nanomaterials are subjected to lasers and generate heat to kill the cells.
The materials used to date are expensive as well as toxic. The ink, like these nanomaterials, is carbon-based and stable in water. By contrast, it is also non-toxic.
When heated with a laser, the temperature of the ink increased by 131° F, much higher than current nanomaterials. Cancer cells in a laboratory dish as well as in mice were killed under photothermal therapy conditions. Hu-Kaiwen ink could also act as a probe to locate tumors and metastases because it absorbs near-infrared light, which goes through skin.
The researchers conclude that Hu-ink-based treatment exhibits great potential for photothermal therapy of tumor metastatic lymph nodes in future clinical practice.
Researchers from Fudan University, Shanghai Jiao Tong University and Tongji University, all in China, collaborated on this study.