Biosensors Track Metastatic Potential of Cancer Cells
Engineering360 News Desk | December 07, 2018
Many tumors can be eliminated with surgery, chemotherapy, radiation and other treatments. But once cancer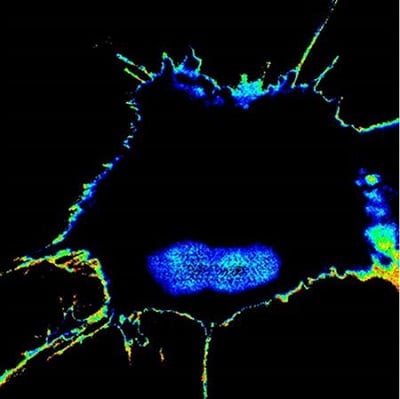 A tumor cell that has acquired high metastatic potential during chemotherapy lights up with high biosensor readout; cells that are sensitive to chemotherapy and have low potential stay dark. Source: University of California San Diegospreads throughout the body, or metastasizes, it becomes much harder to halt.
Biosensors engineered at the University of California, San Diego School of Medicine can gauge the metastatic potential of individual cells based on the presence and modification of a specific protein.
The tyrosine-phosphorylated CCDC88A protein and its modified form were shown to occur only in solid tumor cells. Fluorescent signals associated with the alteration, observed with biosensors and by microscopy, could be an indicator of metastatic potential. Fluorescence resonance energy transfer (FRET) biosensors were designed by documenting this migration tendency and the likely evolution of single cancer cells.
The ability to monitor the progression of this unique protein modification and trigger a fluorescent signal to indicate a cancer cell's metastatic potential could lead to more effective patient-specific therapies.