Harnessing Hydropower
Shawn Martin | September 28, 2017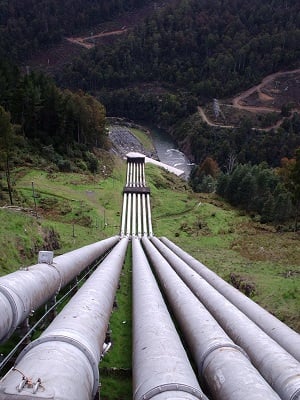 Source: Peripitus / CC-BY-SA-4.0
Built in the Great Depression, the Hoover Dam is one of the greatest engineering marvels in modern history. It once exemplified best practices when harnessing hydroelectric power as well as formed the largest reservoir in the U.S., Lake Mead, which supplies sustenance to approximately 20 million people. The world may never see another dam as magnificent as Hoover Dam, but the Renewable Energy generation industry has found its new poster child for the future of hydroelectric power generation in in-pipe hydroelectric systems.
In-Pipe Hydroelectric Systems
In-pipe hydroelectric systems address several of the pitfalls of traditional hydroelectric plants. The implementation does not carry long-lead times or require substantial infrastructure. They do not impede water flow or affect surrounding ecosystems. The technology is simple, effective and has the potential to revolutionize the future of hydroelectric power generation.
The technology is based on a wind turbine design. Aerodynamic blades utilize pressure from gravity-driven water flow from within the confinements of a pipe wall. They convert excess head pressure into electricity and reduce the workload on ancillary devices like pressure-reducing valves, all while having no impact on the end-user.
In-pipe hydroelectric systems are a cost-effective and hassle-free technology that can generate a significant amount of energy. In applications where the flow rates of gravity-fed fluids exceed the minimum flow requirements, they offer a distributed power source that either helps alleviate peak-energy demands, feeds into the power grid or is used to charge an auxiliary power source.
The microturbines can be installed in a range of gravity-fed pipeline diameters from 24 in. to 60 in. They are placed in series, four diameters apart, to help maximize energy potential. A 60-in. pipeline has minimal flow requirements of 128 million gallons per day with a power capacity of 100 kilowatts.
Portland Water Bureau (PWB) Implements In-Pipe Hydropower
The Portland Water Bureau (PWB) of Portland, Oregon, deployed a four-turbine, 42-in. 200 kW hydroelectric system inside its 48-in. water mains. The LucidPipe™ Power System from Lucid Energy that was installed is estimated to generate an average of 900-megawatt hours of electricity per year.
The system is certified to ANSI/NSF Standard 61 and complies with AWWA C200. It is suitable for use in potable water systems, its associated inverters are tested to UL 1742 and it has a maximum working pressure of 150 PSI.
The pilot operation is funded entirely by private investors and its goal is to help the city meet its Climate Action Plan goals. Revenue from the electricity generated is shared between PWB and investors through a 20-year Power Purchase Agreement (PPA) with Portland General Electric, the local power utility.
At the commencement of the 20-year PPA, the PWB will have the option to retain ownership of the system and all the energy it produces. With a life expectancy in excess of 50 years, this is playing out to be an excellent investment for both the city and the private investors.
Conclusion
Hydroelectricity accounts for about 7 percent of total energy production in the United States. The efficiency of current infrastructure is questionable, and as movements are being made to bring our hydropower systems into the 21st century, in-pipe hydro systems could play a large role.
The U.S. House of Representatives passed the Promoting Conduit Hydropower Facilities Act (H.R. 2786) in July of 2017. This legislation eliminates the 5-MW limitation for small hydropower projects and shortens the review time specified under current law. The bill's approval is a major victory for the development of small hydropower projects, particularly conduit hydropower.
In-pipe hydroelectric systems are an attractive solution in that they do not share the same pitfalls of traditional hydropower plants. The success of current case studies like that of PWB in Portland, Oregon, which has been in operation since 2015, and new legislation enacted that aims to accelerate small hydropower projects, in-pipe hydroelectric systems may become more common.
Resources:
LucidPipe™ Power System Case Study