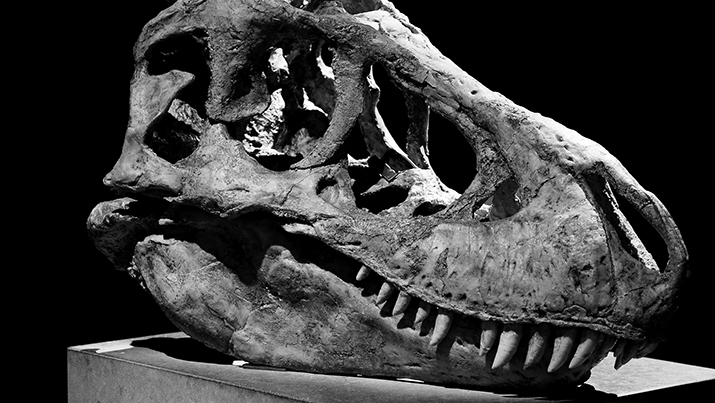 Source: CC0 Creative Commons
Here's the kind of news you don't want to hear: A mathematical analysis of significant changes in the carbon cycle over the last 540 million years points to a mass extermination of species in future millennia.
So far, the Earth has endured five "mass extinction" events, each of which involved processes that disturbed the normal cycling of carbon through the atmosphere and oceans.
Whether or not the uptick in carbon dioxide emissions—which have risen steadily since the 19th century—could tip the planet toward a sixth mass extinction has been difficult to determine. The main reason is that ancient carbon anomalies unfolded over thousands to millions of years, whereas today's disruption has taken place over just a little more than a single century.
But Daniel Rothman, an MIT professor of geophysics and co-director of the Lorenz Center, a climate think-tank, has analyzed significant carbon cycle changes over the last 540 million years and identified "thresholds of catastrophe." As published in Science Advances, Rothman proposes that mass extinction occurs if one of two thresholds are crossed. For changes that occur over long timescales, extinctions will follow if changes occur faster than ecosystems can adapt. For those taking place over shorter timescales, the pace becomes irrelevant; instead, the likelihood of extinction will be based on the magnitude of the change.
Given the recent rise in carbon dioxide emissions over a relatively short timescale, Rothman predicts that a sixth extinction will depend on whether a critical amount of carbon—which he calculates at approximately 310 gigatons—is added to the oceans. Taking into account the most recent report of the Intergovernmental Panel on Climate Change, he estimates that we will reach that amount by the year 2100.
Of course, this would take some time to play out—according to Rothman, around 10,000 years. But by 2100, the world may have tipped into what he calls "unknown territory."
"If left unchecked, the carbon cycle would move into a realm which would be no longer stable, and would behave in a way that would be difficult to predict," he says. "In the geologic past, this type of behavior is associated with mass extinction."