Watch This: Structural Optimization for Additive Manufacturing
Tony Pallone | September 21, 2017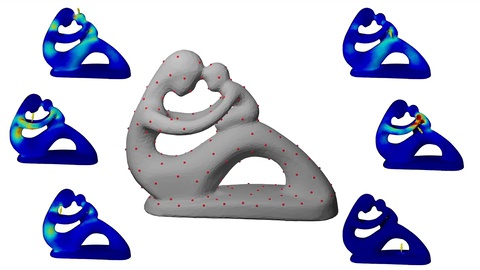 Critical instant analysis is a new process for structural optimization in additive manufacturing. Image credit: Burak Kara and Erva Ulu, Department of Mechanical Engineering, Carnegie Mellon UniversityAdditive manufacturing is considered the gold standard for innovative industry production. Making it responsible and cost-effective is the goal of a Carnegie Mellon research team, which presented a paper on the subject at SIGGRAPH 2017 in Los Angeles.
The team, comprised of mechanical engineering professor Levent Burak Kara, Ph.D. student Erva Ulu and assistant professor Jim McCann of CMU's Robotics Institute, employed structural optimization – a technique for making products as strong as possible while remaining as light as possible. While traditional methods of structural optimization analyze fixed, external forces that stress design integrity, products created through additive manufacturing can be stressed by a near-infinite number of unknown, non-fixed forces.
To address this, the team developed a new method of analyzing integrity called critical instant analysis. It uses digital mapping and simulation to determine the most critical design vulnerabilities, then optimizes material distribution accordingly. Each step in the optimization process accounts for the maximum stress a design can handle before failure. More material is sent to areas that show the highest critical risk of failure. Where material isn't needed, it isn't used.
A video describing the research highlights significant reductions in material mass for several products -- up to 90 percent. Bulkier objects can withstand greater mass reductions.
The end result is lighter weights and lower production costs. Mechanical testing has even shown the team's critical instant analysis designs to be more durable than designs of uniform thickness.
The process could benefit industry in a big way. Kara points out that the immediate application is to aerospace, where the importance of weight is obvious. "But automotive or even consumer products, where the product can be used in many different ways" could also benefit from critical instant analyses, he adds.
The work was funded by a grant from American Makes, an additive manufacturing/3D printing research partner.