Techniplas Brings Concept Vehicle Packed with its Generative and Additive Manufacturing Technologies to Formnext 2018
Engineering360 News Desk | November 14, 2018
Techniplas, a global design and manufacturing provider of automotive products and services, plans to showcase a concept vehicle featuring its expanding generative product design and additive manufacturing capabilities and services at Formnext 2018, Nov 13–16, in Frankfurt, Germany. Attendees are invited to experience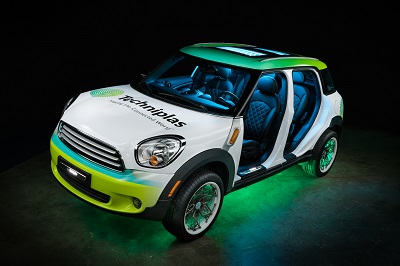 Source: Techniplashow the company is integrating the latest design for additive manufacturing capabilities to deliver significant lightweighting and intelligent connectivity to the automotive industry at Booth B01 — Hall 3 in the Frankfurt Messe.
The concept vehicle exhibits the expanding capabilities of the company's Techniplas Prime proprietary e-manufacturing platform. Unveiled at CES 2018, the platform leverages Techniplas' core engineering expertise and manufacturing facilities, together with dozens of its qualified manufacturing partners. Leveraging new additive and generative technologies from Nexa3D, NXT Factory and ParaMatters, the e-platform can fulfill orders worldwide. Techniplas Prime is the industry's first to provide online lightweighting solutions, additive manufacturing options with instant pricing quotations and localized serial manufacturing for the auto industry.
Developed by Techniplas Digital, the company's California-based digital transformation unit, the concept vehicle demonstrates several advanced capabilities. This includes a trailing suspension arm boasting a 48% weight reduction, several futuristic tire rim designs and a seat back exhibiting how effective design for additive manufacturing can substantially reduce assembly time and part count, material usage and overall cost without any performance degradation. Additionally, the company is demonstrating a first-of-its-kind cognitively-lit sunroof that is programmable and designed to demonstrate how car surfaces are transitioning from core functionality into expanded human-to-machine interfaces.
Techniplas plans to exhibit alongside XponentialWorks and its open innovation program partners, including Nexa3D, NXT Factory and ParaMatters. Together, Techniplas and its partners are showcasing the combined power of generative and additive manufacturing technologies for scalable manufacturing of tomorrow's mobility solutions.