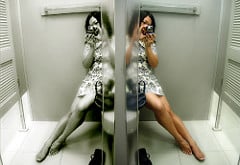 Source: wEnDy / CC BY-ND 2.0Smart mirrors that can make clothing recommendations based on what a customer is trying on may increase sales and reduce the amount of time spent shopping, according to research published in the Pertanika Journal of Science and Technology.
By observing the age, gender and style preferences as indicated by a customer's selections, the mirror—equipped with sensors, displays and cameras working in conjunction with an algorithm—can make recommendations tailored to the customer about other items in the store.
In a survey of 55 female shoppers using the mirror, researchers Ravi Ramakrishnan and Dr. Loveleen Gaur from Amity University in India determined that the smart mirrors made successful recommendations to the customer, which helped increase garment sales.
In addition to making recommendations, the mirror can alert sales staff to bring the recommended items to the fitting room and can show the customer how they would look in a variety of weather and lighting conditions.
The mirror wasn't only successful in increasing sales and decreasing the amount of time the customer spent shopping, it also helped reduce the back and forth on staff returning discarded items to shelves and racks.
Although expected to improve the overall shopping experience, researchers caution that bugs still need to be worked out concerning security and privacy concerns presented by the technology.