GE Introduces 4 MW Onshore Wind Turbine
David Wagman | September 15, 2017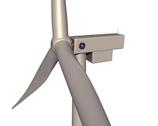 GE Renewable Energy is introducing its 4.8–158 onshore wind turbine for low to medium wind speeds.
The turbine is GE's first onshore entry in the 4 megawatt space, and is equipped with a 158-meter rotor and a range of tip heights up to 240 meters. The combination of a larger rotor and tall towers enables the turbine to take advantage of higher wind speeds and produce more energy.
The carbon blades leverage innovations of LM Wind Power, and are their longest onshore blades.
The 4.8-158 leverages parts of GE's 2 MW and 3 MW platforms, including a doubly-fed induction generator and drivetrain design. The turbine's noise emission levels were measured at 104-dB level during normal operations. A newly designed machine head reduces the need for a larger crane while facilitating up-tower repairs and troubleshooting with its up-tower electrical system.
Earlier in September, Germany-based Nordex Group said it is launching the N149/4.0-4.5 wind turbine, designed for light-wind sites. The turbine has a variable power output of 4.0 to 4.5 megawatts.