Nordex Launches 4MW Wind Turbine and Plans to Cut Costs
David Wagman | September 05, 2017
Germany-based Nordex Group is launching the N149/4.0-4.5 wind turbine, designed for light-wind sites. The turbine has a variable power output of 4.0 to 4.5 megawatts.
The company separately outlined cost-cutting measures to respond to what it says is falling demand for wind turbines in Germany and other European markets.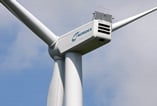 A 3 MW wind turbine from NordexNordex says it wants to reduce costs by EUR 45 million ($53.71 million) in 2018. Of this, materials and other operating expenses will account for EUR 21 million and personnel costs for EUR 24 million. The company plans to cut 400 to 500 jobs in Europe by the end of 2017, largely in Germany.
"Business in the European core market is currently flat to weaker and thus posing challenges for us," said José Luis Blanco, CEO of Nordex SE.
Nordex and Acciona Windpower merged in 2016, broadening its product line and global footprint. The company says one goal is an intensified development of more efficient turbines like its 4 MW machine.
It says the rotor diameter on the N149/4.0-4.5 was increased by 18 meters compared to the company's N131 turbine, and includes a one-piece rotor blade structure. The main girders of the rotor blade are carbon fiber, which the company first used in 2010 for the N117/2400.
The rotor blade was developed in part by SSP, a Danish manufacturer which specializes in longer rotor blades and was taken over by Nordex Group last spring.
The maximum sound level is between 103.6 dB(A) and 106.1 dB(A), making it one of the quietest turbines in the 4.0-4.5 MW class for light wind sites. The turbine also can operate in a number of modes to mitigate noise, the company says. These modes can be controlled based on wind direction, time of day, temperature, or local holidays to minimize the acoustic load and meet regulatory requirements.
Towers include those with hub heights of 105 to 164 meters. For cold climate regions, the Nordex Group offers a cold-climate version and a rotor blade anti-icing system. The turbine is designed for an operational lifetime of 20 years.
The Nordex Group plans to start series production of the N149/4.0-4.5 in 2019. The first test turbines will be set up in 2018 to enable certification.