The petroleum-based constituents used in a multitude of consumer products can be replaced with renewable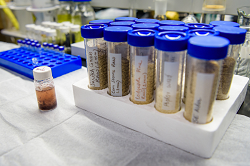 Sugars extracted from waste materials can replace petroleum in the manufacture of thousands of consumer products. Source: University of Delawarecarbon sources, according to University of Delaware engineers.
Cellulosic sugars derived from non-food biomass are ideal for such application, but current lignocellulosic processing methods are time, water and energy-intensive. These technological hurdles can be overcome with a more efficient process for extracting sugars from wood chips, corn cobs and other organic waste.
The researchers devised a water efficient one-step process that combines pretreatment and hydrolysis of cellulose and hemicellulose in one pot. The method is also energy-efficient—with up to a 95 percent theoretical yield of sugars as it proceeds at temperatures as low as 85° C and reaction times as short as an hour.
The process is based on use of a concentrated solution of an inorganic salt, which requires a minimal amount of water, in the presence of a small amount of mineral acid. The solution swells the particles of wood or other biomass, allowing the solution to interact with the fibers.
The researchers also integrated the process with the dehydration reaction, which converts the sugars to furans in the same pot and enables salt solution recycling. Furans are highly versatile compounds used as starting materials for making specialty chemicals.