Autonomous Farming Project Completes Its First Harvest
Jonathan Fuller | September 08, 2017
A U.K. initiative aiming to be the first to plant, tend and harvest crops using only autonomous vehicles and drones has finished its first harvest. The Hands Free Hectare (HFHa) project, a joint effort between Harper Adams University and Precision Decisions, took place at Harper Adams in Shropshire.
The team used a single Iseki autonomous tractor to spray, drill and roll the plot, then a combine harvester to harvest trial plots. Both machines were smaller and lighter than most tractors used today, which the researchers thought beneficial.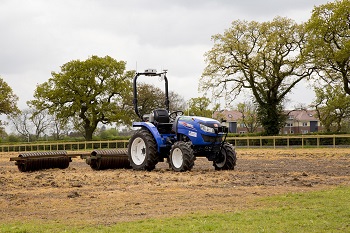 The autonomous tractor used by Hands Free Hectare. (Source: Hands Free Hectare)"If combines in the future were similar to the size of the combine we used in this project, which was a little Sampo combine with a header unit of only two meters, it would allow more precise yield maps to be created," said Harper Adams researcher Jonathan Gill in a September 8 press release. "They would also be much lighter machines."
The team incorporated drones to capture multispectral imagery of the plot, helping to spot plant growth in real-time.
HFHa had some bumps on the road to its successful harvest. The tractor wasn't driving straight during the drilling phase, and the team had difficulty in reconfiguring the tractor to spray crops following drilling and rolling operations.
"After successfully drilling and rolling the crop, we had to try and turn round the tractor and reconfigure it into a sprayer very quickly to try and get a pre-emergence spray on," said project lead Kit Franklin in an interview last month. "Sadly, we missed that target but we have since managed to get on our T1 and T2 fungicides, including a herbicide to help tackle some grass weeds we were seeing and micro-nutrients to aid the crop growth."
"This project aimed to prove that there's no technological reason why a field can't be farmed without humans working the land directly now and we've done that," said Precision Decisions' Martin Abell in the more recent press release. "We set-out to identify the opportunities for farming and to prove that it's possible to autonomously farm the land, and that's been the great success of the project."
More information about the project can be found at HFHa's website.