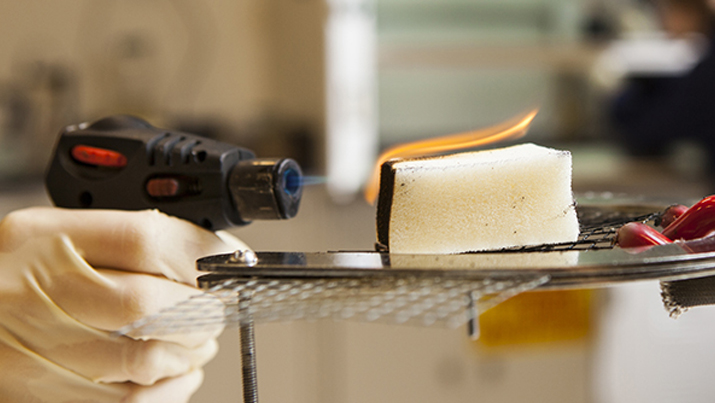 Source: Texas A&M Engineering
An upcoming issue of the Journal of Materials Science will feature as its cover story a review paper on one of materials science's major breakthroughs: protective, flame-retardant nanocoatings for polymeric surfaces.
The paper was completed by a team at Texas A&M University that includes Dr. Jaime Grunlan, whose lab invented the technology. The nanocoating treatments work by creating an outer barrier to extinguish flames before they spread, and address the toxicity concerns typically associated with flame-retardant chemicals.
Grunlan's research group uses materials such as clays, carbon nanotubes and graphene oxide to deposit thin, flame-retardant coatings onto polymeric substrates, such as polyurethane foam, cotton and cotton-blended fabrics. Using a layer-by-layer assembly technique, the group has reported significant reductions in heat release rates and smoke release, as well as the ability to self-extinguish in open flame tests.
"We were the first group in the world to demonstrate that the layer-by-layer deposition technique could be used to deposit very thin, very effective and environmentally benign flame-retardant coatings," says Grunlan, the Linda & Ralph Schmidt '68 Professor in the Department of Mechanical Engineering at Texas A&M and one of the paper's co-authors. Contributing equally to the review paper were Dr. Kevin Holder, a former doctoral student in the Department of Materials Science and Engineering; and Ryan Smith, a current doctoral student in the Department of Chemistry.
Grunlan's investigation into the technology began while he was working on gas barrier thin coatings for food and electronics packaging. After seeing how his coated foam samples resisted fire testing, the National Institute of Standards and Technology (NIST) provided funding for Grunlan's work on flame-retardant nanocoatings.
Since 2006, the group has had three patents issued, dozens of papers published and licensing agreements signed with several major corporations. They are currently working on reducing processing steps and improving coating performance and durability to make them more favorable to commercialization.