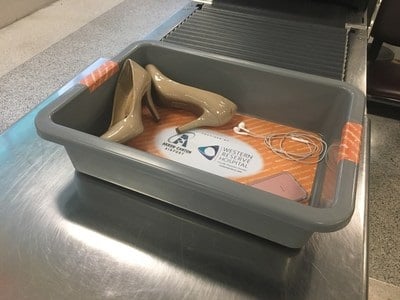 Self-cleaning mats and skins on security checkpoint bins at the Akron-Canton Airport. Source: PRNewsfoto/Western Reserve Hospital
It's a new first: using nanotech to clean checkpoint security bins in airports.
NanoSeptic skins and mats developed by Virginia-based NanoTouch Materials have been applied to security bins at the Akron-Canton Airport (CAK). Powered by light, the NanoSeptic technology utilizes mineral nano-crystals that create a self-cleaning oxidation reaction to continuously break down organic contaminants.
The skins were applied like stickers to bin handles, with the 1/16-inch-thick mats covering the bottoms of the bins.
"Delivering self-cleaning surfaces in high-traffic areas like TSA security improves traveler experience and public perception of cleanliness while traveling," said Dennis Hackemeyer, co-founder of NanoTouch Materials. "These mats are also a tremendous opportunity for hotels, cruise lines, airlines and travel agencies to provide a new high-value amenity."
NanoTouch Materials has supplied self-cleaning skins, mats and other surface covers to the various industries, including healthcare, commercial cleaning and education. The CAK launch represents the first use of the technology in an airport.
Project sponsor Western Reserve Hospital, an independent, physician-owned hospital in Cuyahoga Falls, provided the skins and mats as part of its commitment to community health and safety.