Mini Articulated Crane Travels on Crawler Tracks
S. Himmelstein | August 25, 2017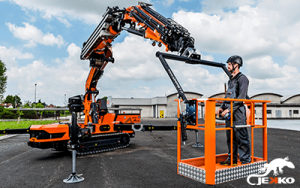 Source: Jekko
Italian mini crane manufacturer Jekko has launched the JF 545, described as an articulated crane with a self-propelled crawler chassis that can be operated by just one person.
The JF 545 comprises a two-part, articulated crane arm, plus stabilizers, mounted on crawler tracks. A jib can be added to the boom, extending the list of potential applications compared to a traditional mini crane with a chain system telescopic arm.
The mini crane can be customized to suit various applications: a three-person hydraulic platform can be used in conjunction with double articulation, while a two-person basket can be used for heights up to 31 m when the jib is deployed. The crane can also be used with either a direct hook or a winch.
The JF 545 can access space-restricted jobsites, thanks to its small dimensions (5,450 x 1,840 x 2,750 mm), while the crawler tracks enable it to be used on steep terrain.
The machine uses a lifting moment limiter instead of an electronic limiter, a feature that simplifies use, as machine feedback is provided via a pressure reference display rather than through input/output software. When fully stabilized, the crane can use maximum pressure to work at 360 degrees. The system also takes into account the position of the stabilizers and the resulting tip-over line to automatically calculate the crane's stability level.