After Seattle collapse, tower crane standards are highlighted
David Wagman | April 30, 2019
Washington state regulators opened a probe into the companies involved in dismantling a tower construction crane that collapsed April 27 in Seattle, killing four people.
The tower crane was being dismantled when it fell around 3:30 p.m. It hit the building and landed on several vehicles below. Among those killed were a student and two ironworkers.
News reports said that the Washington Department of Labor and Industries opened investigations with four companies involved in taking apart the crane. That work ranged from unfastening bolts that held the crane together to removing each section using a second, smaller crane.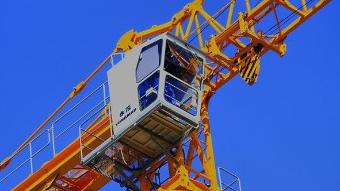 Tower crane operator cabin. Credit: Titoni Thomas via WikimediaThe project is a new Google campus that is being developed by Vulcan Real Estate. Investigators are seeking information from four companies: GLY Construction, the general contractor; Northwest Tower Crane Service, a subcontractor that disassembled the crane into pieces; Omega Morgan, which removed sections with a smaller crane; and Morrow Equipment, which owned the tower crane.
In July 2018, the Seattle Times newspaper said that the city had 65 tower cranes in service, the most in the country. That was 25 more cranes than in Chicago, which ranked second. It was the third year in a row that Seattle's crane count led the nation.
The International Organization of Standards (ISO) published ISO-8686-3 in September 2018. It offers design principles for loads and load combinations for tower cranes.
The American Society of Mechanical Engineers in 2016 published ASME B30.3: Tower Cranes. It applies to construction tower cranes and permanently mounted tower cranes that are powered by electric motors or internal combustion engines and that adjust their operating radius by means of a luffing boom mechanism, a trolley traversing a horizontal jib, or a combination of the two. Variations that provide the same fundamental operating characteristics are included within the scope of this standard.
Canada-based CSA Group published CSA Z248 in 2017. It applies to the design, characteristics, construction, installation, dismantling, operation, inspection, testing and maintenance of tower cranes.
In Europe, the Danish Standards Foundation published DS/EN 14439 in 2009. The standard specifies safety requirements for tower cranes and for climbing systems used with the tower cranes/masts of tower cranes that are used for construction work.