All-Terrain Crane Offers 100-Ton Lift Capacity
Vincent Zandri | March 08, 2016
High mobility combined with heavy lifts has reached new heights with an all-terrain crane from GMK. Said to be available on the global commercial construction marketplace during the first quarter of 2016, the four-axle GMK4100L-1 crane offers a 100-ton lift capacity and a 60-meter boom that, when fixed with an 18-meter telescopic swing-away jib and a separate 8-meter boom extension, offers up a total extended reach of 26 meters.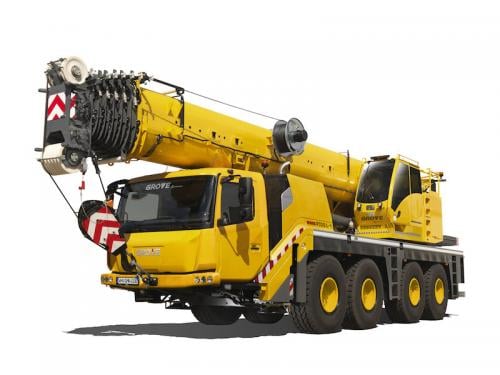 The four-axle crane offers a 100-ton lift capacity and a 60-meter boom with extensions. Designed as a replacement for the GMK4100L model, the machine is reported to deliver 6.9 percent improved load charts with its 26.2-ton-maximum counterweight configuration. At the same time however, this mobile lifter's width has been reduced by 0.20 meters compared to the previous model. It length is half a meter shorter. A 429 HP, Tier 4-Final Mercedes-Benz OM470LA six cylinder diesel engine serves as the crane's powerhouse which and provides 1,548 lb per ft of toque at 1,300 rpms.
Engineered and manufactured in Germany, the GMK4100L-1 is said by its manufacturer to offer contractors and operators superior reliability, easy transport, user friendliness and performance. Armed with a smart Boom Configurator Mode, operators can select the optimum boom position for almost any given lift. By inputting lift parameters such as radius and boom length and/or load, the digital system determines the optimum boom configuration. The boom then extends to the desired length. The crane also offers an enhanced carrier cab for operator comfort and an independent active suspension.