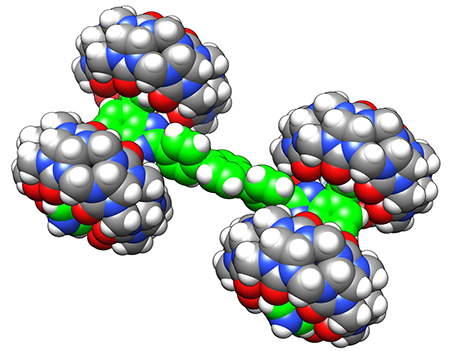 Ohio University's nano-sized 'monster truck.' Source: Eric Masson, Ph.D.It was billed as the first-ever nanocar race. And it included the world's tiniest monster truck.
Held in April at the National Center for Scientific Research (CNRS) in the southern French city of Toulouse, the competition included six teams from three continents. With vehicles invisible to the naked eye racing the distance of a fraction of a human hair, the meet lasted 30 hours.
"The overarching goal was to advertise nanoscience to the public," said Eric Masson of Ohio University, co-leader of the team that entered their "Bobcat Nanowagon." They referred to it as a monster truck — ironically, since it measured about 3.5 nanometers in length. For comparison, a sheet of paper is about 100,000 nanometers thick. The Bobcat was much closer in dimension to a strand of human DNA, which has a diameter of 2.5 nanometers.
With a pseudorotaxane H-shaped frame and four relatively large cucurbituril molecules as wheels, the Bobcat had no motor. To move it, Masson and team co-leader Saw-Wa Hla used the scanning tunneling microscope (STM) instrument in Hla's lab.
"Every team had its own goal," Masson said. "Ours was to see if we could deposit an intact supramolecular assembly onto a surface, and control its motion."
"We incorporated positive charge receptors in the car," adds Hla. "So if we injected a positive charge in the STM tip pointed at the car, there would be repulsion, and the car would move."
Because of capacity limits at CNRS, the Bobcat was kept in the Ohio lab and operated remotely from France. It traveled 43 nanometers before a power blip in the Midwest caused it to get stuck on a particularly rough section of the track. It didn't complete the course — but it did go farther than some of the competition, and placed third.
As a result of the race, the team says it made an intriguing discovery related to the covalent bonds that comprised their vehicle's chassis. They are presenting their nanocar research at the Fall 2017 National Meeting & Expo of the American Chemical Society (ACS).
Scientists envision that tiny vehicles like these could one day be used in electronics and data storage, although more understanding of how molecules behave at the atomic scale is needed before applications can come along.
"Our excitement is really about the fundamental science," Hla says. "This is just the beginning."