Making Spray-on Electrochromic Rainbow Inks that can be Applied Safely
Peter Brown | August 16, 2017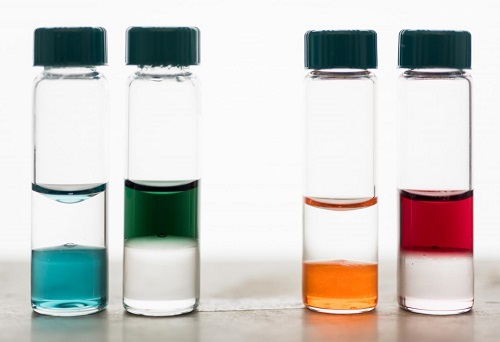 Precursor polymers dissolve in organic solvents (like chloroform) but can be transitioned to a water soluble form. Source: Georgia TechElectrochromic films are often coated onto other materials, such as a vehicle rearview mirror, as inks. Usually these inks are based on solvents that are flammable and have toxic fumes making them unsuitable for many work settings that rely on printing and spraying machinery to apply colors.
Now, chemists at the Georgia Institute of Technology have developed a new method to more safely and easily produce shear films that change their color with the help of a tiny electric current. The electrochromic film inks are water based making them safer for diffuse applications in settings where safety and protective equipment are standard in handling volatile organic chemicals would be practical.
The development could make these shear films available to many industries that have not been able to use them before.
"Where people print is not always in chemically safe environments," said John Reynolds, a professor in Georgia Tech's Schools of Chemistry and Biochemistry and Material Science and Engineering.
The shear films had to electrically operate comparable to films that are applied in an organic solvent, and also be water-resistant in spite of the water-based production.
If the chemical progress can make it to production, the market may see more windows, prescription glasses or even textiles that switch between colors and shades of darkness with a click of a button or with the help of a light-detecting switch.
The electrochromic films are made with conjugated polymers, colorful and electroactive organic molecules. These molecules easily let go of a few of their more loosely attached electrons changing colors as they shift.
If the colored films are on a clear surface, the color vanishes, the surface becomes clear. The surface has to be conductive so that a small voltage can be applied to bump the electrons off the conjugated polymer or help them jump back on.
How They Did It
Conjugated polymers are produced in organic solvents and do not inherently dissolve in water. The Georgia Tech films are printed from water-based inks that might wash out in the rain or smudge in high humidity.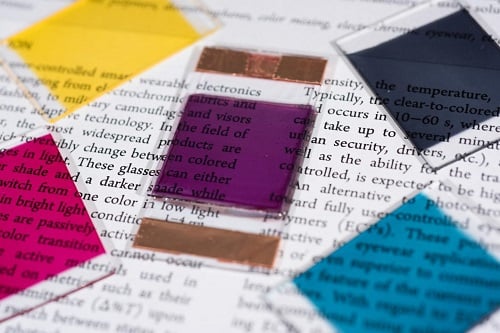 Samples show some of the colors researchers have produced in electrochromic polymers. Source: Georgia TechTo avoid this, the Georgia Tech films are developed with an organic solvent and an aqueous solvent in phases. First, the polymer is produced in an organic solvent to assure quality and aligned with chemical industry practices.
"Chemical companies really do a lot of this kind of processing, and it's advantageous to keep this as it is, so the companies can keep doing what they're doing and add this product more easily," said Brian Schmatz, a researcher at Georgia Tech.
The conjugated polymer is then altered with a chemical trigger so that it will dissolve in water. The chemical is activated through a high pH water wash and it transforms the organic soluble polymer into a water soluble polyelectrolyte.
"The reason we want to do all of this is so we can produce the polymer in an organic solvent, but then print the polymer from a water-based ink," Schmatz said.
The chemical trigger is then cleaved off from the conjugated polymer by shining ultraviolet light on the electrochromic film so the film doesn't smear or run after printing. The chemical chain then becomes a residue that can be wiped out or rinsed off.
Researchers believe the films could be applied to various materials including some other than glass or plastic.
The full research can be found in journal ACS Central Science.