Diesel Engine Being Considered for Unmanned Aircraft
S. Himmelstein | August 13, 2017
An advanced diesel engine is being evaluated by the U.S. Air Force Research Laboratory Advanced Power Technology Office as a potential replacement for current manned and unmanned aircraft internal combustion engines.
The Graflight V-8, 4.3 liter engine developed by Engineered Propulsion Systems is a "clean sheet" design specifically intended for aircraft use. The high efficiency, liquid-cooled system is capable of using either a composite or aluminum propeller.
The compact engine is designed to use up to 40 percent less fuel than typical aircraft engines, with less vibration. This increased efficiency extends operational range and loiter time by up to 50 percent. Incorporation of a compacted graphite iron (CGI) cylinder block ensures longer service between maintenance overhauls.
The Graflight V-8 also uses steel pistons instead of aluminum. Strong, fatigue-resistant steel allows shorter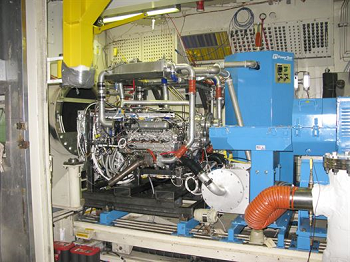 The Graflight engine could offer extended range and greater fuel options for unmanned aircraft missions. (Courtesy photo/AEDC)pistons, reducing overall engine weight. Since steel pistons have almost the same thermal expansion coefficient as the CGI block, engine warm-up damage is minimized. Friction and wear are also reduced compared to aluminum pistons, and cold weather starts are not a problem. Taken together, the CGI block and the steel pistons allow for a target time of 3,000 hours, compared with 1,500-2,000 hours for other diesel piston engines.
With an innovative new control unit, the engine can operate using diesel, Jet-A, or JP-8 fuels that are readily available in-theater. This flexibility reduces or eliminates the need to transport specialized fuels, and offers the possibility of unmanned aircraft use in regions that were previously impractical.
During ground tests, the development team performed simulated flights at altitude in the Arnold Engineering Development Complex Propulsion Development T-11 Test Cell. The engine was taken through a range of operational flight conditions, from sea-level to 30,000 feet and back, successfully meeting performance expectations and generating valuable data on performance factors such as fuel consumption, calibration, vibration and power output.