Cassini to Begin its Final Orbits Around Saturn
Peter Brown | August 09, 2017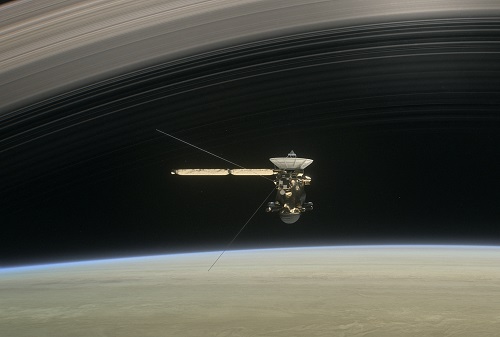 An artist rendering of Cassini making one of its final five dives through Saturn's upper atmosphere. (Source: NASA) We have known for a few months now that the life of the Cassini spacecraft is coming to an end as a result of the craft running low on rocket fuel used to adjust its course.
Because of this, NASA is planning a "grand finale" that involves ultra-close passes through Saturn and its rings ending with a final orbit that will plunge it into Saturn where it will burn up in the atmosphere.
The final five missions of Cassini have come, and starting next week the craft will begin its final dives through Saturn's upper atmosphere through Sept. 15. During these last missions, Cassini will reach the closest approach to Saturn at about 1,010 and 1,060 miles above Saturn's cloud tops.
NASA believes Cassini will experience atmosphere dense enough to require the use of its rocket thrusters to maintain stability, similar to when it passed close to Saturn's moon, Titan.
"Cassini's Titan flybys prepared us for these rapid passes through Saturn's upper atmosphere," says Earl Maize, Cassini project manager at NASA's Jet Propulsion Laboratory (JPL) in California. "Thanks to our past experience, the team is confident that we understand how the spacecraft will behave at the atmospheric densities our models predict."
NASA says that because these last five dips will be so close to Saturn, Cassini will become the first Saturn atmospheric probe, which the organization hopes will give it a foundation to send a dedicated probe into the atmosphere of Saturn for future exploration.
Cassini will make detailed, high-resolution observations of Saturn's auroras and temperature, and the vortexes at the planet's poles. Furthermore, its radar will peer deep into the atmosphere to reveal features 16 miles wide — nearly 100 times smaller than the Cassini could observer prior to these final missions.
On Sept. 11, Cassini will once again orbit Titan before making a final descent into the planet on Sept. 15