Video: The Most Powerful U.S. University Supercomputer
Tony Pallone | August 04, 2017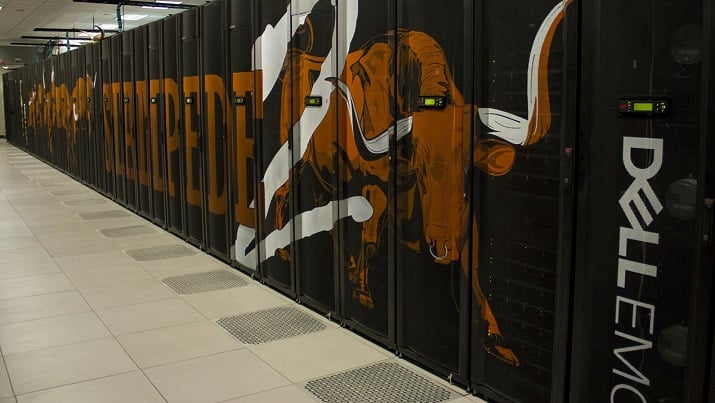 Stampede2. Image credit: Texas Advanced Computing Center.According to a press release from the University of Texas at Austin, the newly-launched Stampede2 is the most powerful supercomputer at any U.S. university – as well as one of the most powerful in the world.
As part of the University's Texas Advanced Computing Center (TACC), the system is already ranked as 12th most powerful in the world as of the June 2017 Top 500 list. During summer 2017, additional hardware and processors will be added, giving Stampede2 a peak performance of 18 petaflops, or 18 quadrillion mathematical operations per second. That's equivalent to the processing power of 100,000 desktop computers.
The new system replaces Stampede1, which operated at TACC from 2013-2017. Stampede1 ran 8 million compute jobs during the course of its existence, supporting tens of thousands of researchers and more than 3,000 science and engineering projects. Stampede 2 doubles the peak performance, memory, storage capacity and bandwidth of its predecessor -- but will occupy half as much physical size and consume half as much power. It will be integrated into TACC's ecosystem of more than 15 advanced computing systems, providing access to long-term storage, scientific visualization, machine learning and cloud computing capabilities. It will also be among the first to employ advanced technology from industry partners Dell EMC, Intel and Seagate.
Designed by TACC, Stampede2 was made possible by a $30 million award from the National Science Foundation (NSF). The university says that it will serve as a strategic resource for the nation's academic community, enabling researchers around the country from all disciplines to answer questions that cannot be addressed through theory or experimentation alone. Researchers will be awarded computing time on the system through the NSF-supported Extreme Science and Engineering Discovery Environment (XSEDE), based on a competitive peer-review process.
The use of NSF-supported cyberinfrastructure resources is currently at an all-time high among science and engineering disciplines. Since 2005, the number of active institutions using research cyberinfrastructure has doubled, the number of principal investigators has tripled and the number of active users has quintupled.
The new system has already been used by researchers to conduct large-scale scientific studies of gravitational waves, earthquakes, nanoparticles, cancer proteins and severe storms.
Partner institutions providing cyberinfrastructure expertise and services for Stampede2 are Clemson University, Cornell University, Indiana University, Ohio State University and the University of Colorado.