Supercomputer used to create model of how coronavirus infects the body
Siobhan Treacy | March 25, 2020
Researchers from the University of Texas at Austin are working on a massive computer model of the coronavirus that will give insight into how the virus works within the body. Testing and optimizing the model's code was done on the supercomputer Frontera at the University of Texas at Auston's Texas Advanced Computing Center (TACC). Knowledge from the model could help design new drugs and vaccines to fight the coronavirus.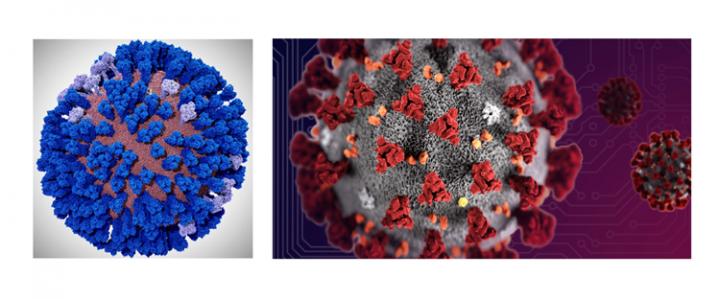 A coronavirus envelope all-atom computer model is being developed by the Amaro Lab of UC San Diego on the NSF-funded Frontera supercomputer of TACC at UT Austin. Biochemist Rommie Amaro hopes to build on her recent success with all-atom in?uenza virus simulations (left) and apply them to the coronavirus (right). Source: Lorenzo Casalino (UCSD), TACC
The team is working to create the first complete all-atom model of the coronavirus envelope, or exterior component. This provides a good view of the components involved in molecular recognition. The coronavirus model contains roughly 200 million atoms, and each of their interactions needs to be computed.
The team took an integrative modeling approach to their study. They combined data at different resolutions to create the cohesive model. This starts with individual components with structures that are resolved at atomic or near-atomic resolution. Once the components are stable, the team introduced them into bigger envelope simulations with neighboring molecules.
They ran molecular dynamic simulations on up to 4,000 nodes on the supercomputer Frontera. Simulations of that size have to be done on a supercomputer.
This work builds on the success with an all-atom simulation of the influenza virus envelope. Influenza work has a number of similarities to what is being pursued with the coronavirus. It took a year to build the influenza viral envelope, but the coronavirus work is going much faster.
The simulations give insight to parts of the coronavirus that cause infectivity. Understanding these features gives scientists a chance to create new drugs and understand how current drugs can fight the coronavirus.
A paper on this research was published in ACS Central Science.