Video: Navy 3D Prints Submersible Hull
Peter Brown | July 31, 2017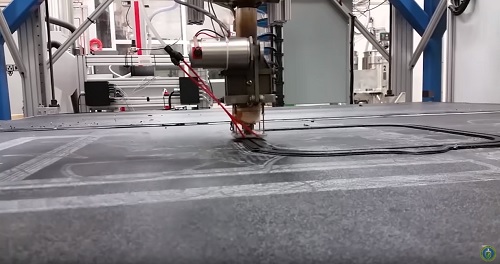 It took just four weeks to 3D print the submersible hull at Oak Ridge National Laboratory. Image credit: Department of Energy
The U.S. Department of Energy and the U.S. Navy have 3D printed what it says is the largest 3D printed asset to date in the form of a submarine hull.
The proof-of-concept hull is the first of several planned on-demand and disposable vehicles the Navy wants to create using 3D printing.
The prototype was built by the Department of Defense and the Department of Energy and is classified as an optionally manned technology demonstrator (OMTD) that is 30 feet long, 4.5 feet in diameter and comprised of six carbon fiber composite sections.
The submersible hull took about four weeks to complete and the government agencies say the production of the hull reduced production costs by as much as 90 percent using an additive manufacturing machine.
The Navy plans to print a second version of the hull to test at its wave testing facilities in Maryland. If those tests are successful, 3D printed submersibles could be introduced for use by 2019.
The Navy says early stage R&D collaborations such as this submersible are addressing the challenges of accelerating how vehicles are built and the amount of energy and resources needed to accomplish the task as well as its impact on the global community.