Lockheed to Build Dry Combat Submersibles for Navy SEALs
John Simpson | August 03, 2016
Lockheed Martin, in partnership with Submergence Group LLC, will manufacture dry combat submersibles (DCS) to transport personnel while submerged. These vehicles are said to have longer endurance and operate at greater depths than the swimmer delivery vehicles (SDVs) now in use.
Under terms of a $166 million contract with the U.S. Special Operations Command, Lockheed Martin will construct as many as three DCS vehicles over the next five years. The vessels, which will be built in the UK and Florida, will weigh more than 30 tons and launch from surface ships.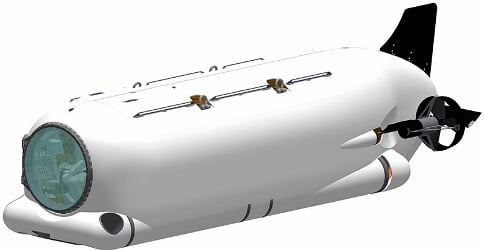 The 30-ton vessels will launch from surface ships and be able to travel long distances underwater. Image credit: Lockheed Martin.Currently, personnel moving underwater who use an SDV (a wet submersible)—typically Navy SEALs—are outfitted in dive gear and exposed to the undersea environment. DCS will allow them to be positioned closer to their destination before they enter the water and "in better physical condition to complete a mission," according to Lockheed Martin.
The vessel will support a pilot and navigator and up to six swimmers, with the ability to lock them out and in. It is equipped with an inertial navigation system and Doppler velocity log for navigational support, an underwater telephone and UHF radio for communications, and an obstacle avoidance sonar and fathometer. Additional sensors can be added to support specific requirements.
Lockheed says the 9.36-meter-long craft has a lock-in-and-out maximum depth of 30 meters and a range of 60+ nautical miles at a speed of 5 knots.