Researchers Develop Ship Coatings to Fight Friction Drag
Marie Donlon | June 27, 2018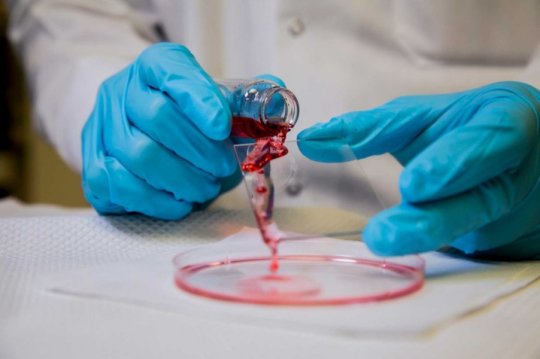 Mathew Boban, a graduate student research assistant at the University of Michigan, pours hexadecane oil onto a glass slide covered with an omniphobic coating. The petroleum-based, highly viscous oil slides easily off the glass. Source: Robert Coelius, Michigan Engineering Communications & Marketing
A materials science professor from the University of Michigan has developed a new coating capable of shedding just about everything from water, alcohol, oil and even peanut butter.
Sponsored by the Office of Naval Research (ONR), the "omniphobic" coating can be applied to almost any surface, which is of interest to the Navy in terms of the promise it shows for reducing friction drag on ships, unmanned underwater vehicles and submarines.
Likening friction drag — the resistance encountered when moving a hull through water — to trying to run while submerged in a pool, the Navy is always on the lookout for anything to ease movement through water that will simultaneously cut down on the energy and effort expended.
"A significant percentage of a ship's fuel consumption [up to 80 percent at lower speeds and 40-50 percent at higher speeds] goes toward maintaining its speed and overcoming friction drag," said Dr. Ki-Han Kim, a program officer in ONR's Sea Warfare and Weapons Department. "If we could find a way to drastically reduce friction drag, vessels would consume less fuel or battery power, and enjoy a greater range of operations."
The chemical coating developed by Dr. Anish Tuteja, shows promise for being both durable enough to stick to most surfaces while also resistant to most liquids — a feat that has proven difficult in the past.
"Researchers may take a very durable polymer matrix and a very repellent filler and mix them," said Tuteja. "But this doesn't necessarily yield a durable, repellent coating. Different polymers and fillers have different miscibilities [the ability of two substances to mix together]. Simply combining the most durable individual constituents doesn't yield the most durable composite coating."
To create his chemical coating, Tujeta and his team first analyzed a computer database of chemical substances. Once the team applied complex mathematical equations to predict how any two chemicals would behave when combined, the team settled on a combination that resulted in a rubber-like substance. The coating, according to the team, can be spin-coated, sprayed, brushed or dipped onto a number of surfaces where it will create a tight bond. Additionally, it is durable enough to withstand denting, scratching and other hazards, according to Tuteja.
While the team conducts additional testing of the omniphobic coating, Tujeta also imagines the coating being used in applications where equipment like sensors, radars and antennas need to be protected from water.