Weather Forecast System Updated for Hurricane Season
David Wagman | July 18, 2017
Raytheon delivered updates to its Advanced Weather Interactive Processing System for the 2017 Atlantic hurricane season. The improvements include graphical inundation maps that show growing storm surge heights, and improved collaboration capabilities between forecasters and emergency responders in coastal areas.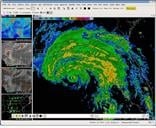 AWIPS is used by meteorologists to ingest and analyze weather data, and create visualizations to predict weather patterns and disseminate information.
In September 2015, Raytheon delivered AWIPS II, an upgrade to the AWIPS system.
Updated AWIPS capabilities include:
Scalable from laptops to servers, enabling forecasters to work on location with emergency responders
Data from all kinds of sources, such as weather radars and environmental satellites orbiting in space
Highest resolution available from each sensor enabling more precise forecasts
Open-source software intended to enable low-cost maintenance, stability and improvement to forecast accuracy and timeliness
A variety of data types are processed in real time, allowing video game-like visualizations and interaction
Maps display and re-project nearly instantaneously, with seamless scrolling and zooming
Automated text generation allows weather statements — such as watches and warnings — to be issued rapidly.
Raytheon manages the operations, maintenance and evolution of AWIPS. The company provides hardware, software, and communications services to the entire AWIPS network, including NWS Weather Forecast Offices, River Forecast Centers, regional headquarters and Environmental Prediction Centers across the U. S. and its territories.