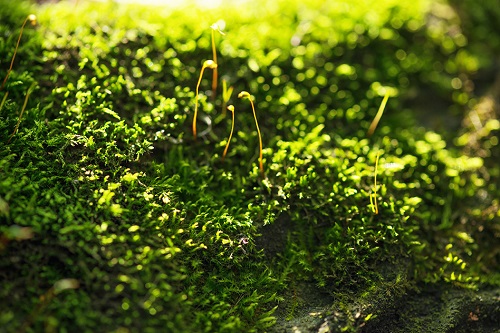 Researchers have determined how moss and algae protect themselves from too much sunlight. Image credit: MIT
Photosynthesis, or garnering energy from the sun, is the basis for which all plant life needs to survive. But it can also be extremely hazardous to plants if they get too much sunlight.
The extra energy from too much sun destroys plant's tissue but most plants have developed a defensive mechanism known as photoprotection, which allows them to dissipate the extra energy. Researchers at MIT and the University of Verona have discovered how a key protein in this process allows moss and green algae to protect themselves from too much sun.
During photosynthesis, specialized proteins known as light-harvesting complexes along with pigments such as chlorophyll, absorb light energy in the form of photons. These then drive a series of reactions that produce sugar molecules allowing plants to store energy for later use. Most plants absorb more sunlight than they actually use, converting only about 30 percent of the available sunlight into sugar, while the rest is released as heat.
Researchers found that the protein, which is embedded in the membranes in the chloroplast, can switch states in response to sunlight. Moss and green algae absorb more sunlight than they need and this protein releases the energy as heat, preventing build up and damage to the plants. The protein can act within seconds of a change in sun exposure, researchers say.
"These photoprotective mechanisms have evolved from the fact that sunlight is not constant. There are sunny days; there are cloudy days. Clouds may briefly pass over, or the plant can be transiently in the shade," said Gabriela Schlau-Cohen, an MIT assistant professor of chemistry.
The research could be useful in ways to alter photosynthesis to increase biomass yield of both crops and algae grown for biofuels.
In the study, researchers used a sensitive microscope to analyze single proteins to determine how the LHCSR1 protein, the protein that allows for light-harvesting complex stress, found in moss reacts to different light conditions. They found that the protein can assume three distinct conformations, which correspond to different functions.
Under cloudy or shady conditions, the protein simply absorbs photons and passes the energy on into the rest of the photosynthetic machinery. When the sun comes out, the LHCSR1 protein switches to another conformation within seconds, caused by a decrease in pH, which allows it to convert more sunlight into heat.
Researchers found this photoprotection can be turned on more gradually by another feedback mechanism involving pH. A decrease in pH activates an enzyme that changes the molecular composition leading the protein to favor and stabilize its photoprotective state.
"Both of these states are controlled by a feedback loop within the organism. The pH is a short timescale response, and the molecular composition is a longer timescale response," Schlau-Cohen said.
The full research can be found in the journal Nature Chemistry.