Why Did the Pre-WWII Bunker Cross the Road?
S. Himmelstein | July 13, 2017
Widening of the Lek shipping channel near the Dutch town of Vreeswijk is going to require a lot of mechanical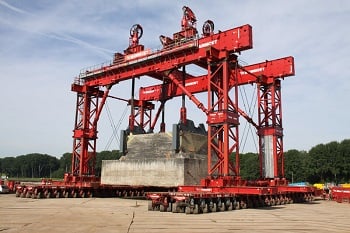 The 1,200-tonne bunker being moved to its new position. (Source: SCHEUERLEmuscle in an unusual undertaking -- lifting and transporting a 1,200 ton pre-World War II bunker.
The first of three concrete bunkers has been moved 100 m away and re-positioned onto new foundations at an angle. In preparation for the move, a specially constructed gantry was positioned on 88 SCHEUERLE Self-Propelled Modular Transporter axle lines. The bunker was then disconnected from its foundations and detached from the anchorage.
To preserve the historical character of the structures and to avoid the impression that history had been manipulated, the bunkers are randomly angled slightly upwards as "Objet Trouvé" at their new locations. The placement implies that they are not in their original positions.