Sulfur Regulations Challenge Refiners and Shipowners
John Simpson | December 08, 2016
New international regulations limiting sulfur in fuels for ocean-going vessels, set to take effect in 2020, will impact refiners and vessel operators at a time of high uncertainty in the oil market, according to the U.S. Energy Information Administration (EIA).
The International Maritime Organization (IMO) decided in October to move forward with plans to reduce the maximum allowable levels of sulfur and other pollutants in marine fuels used on the open seas from 3.5% by weight to 0.5% by weight by 2020. The new limits will affect the largest portion of the approximately 3.9 million barrels per day of global marine fuel use—and will present challenges to refiners and shippers alike, EIA says.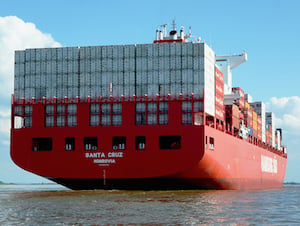 Ship operators will have to decide whether to install scrubbers or switch to lower-sulfur fuel blends or liquefied natural gas to meet the new regulations. Image credit: Pixabay. The first challenge for refiners is to increase the supply of lower-sulfur blendstocks to the bunker fuel market. One approach is to divert more low-sulfur distillates into the bunker fuel market, while another is to use low-sulfur intermediate refinery feedstocks in bunker blends.
A second decision refiners will have to make is what to do with the high-sulfur residual oil that can no longer be blended into bunker fuel. Adding capacity to desulfurize residual oil is an option, but the economics to do so are not currently attractive to refiners. An alternative strategy is to build or expand refinery units that take heavy hydrocarbons and upgrade them into lighter, more valuable products. In either case, refineries would be faced with investments and costs that are acceptable only if there is certainty of future demand from the shipping industry.
For their part, vessel operators will have to determine their preferred method of compliance with the new regulations. The possibility of widespread scrubber installations, which would allow ships to continue using higher-sulfur residual oils, could make refiners hesitant about making large investments to build refining units capable of upgrading the residual oils, EIA notes.
Shipowners also have the option of switching to new lower-sulfur blends or to nonpetroleum-based fuels, such as liquefied natural gas (LNG). However, the infrastructure to support the use of LNG as a shipping fuel is currently limited in both scale and availability.
A strong likelihood, EIA says, is that vessel operators and shippers will face higher costs as the sulfur content in marine fuels decreases and the role of distillate in the bunker fuel market increases. An example of the price difference between fuels can be observed at the Amsterdam-Rotterdam-Antwerp refining and trading hub. In 2016, prices for low-sulfur gasoil, a type of distillate, have averaged over $20 per barrel more than high-sulfur fuel oil. Fuel blends used to meet the new IMO regulations are likely to be priced somewhere between these two fuels, according to EIA.