Flow Meters for Large Diameter Pipe and Air Ducts
Shawn Martin | July 12, 2017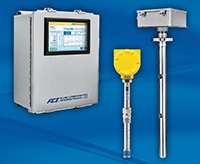 Image Credit: Fluid Components Intl. (FCI)Fluid Components International's MT100 Series insertion type, multipoint thermal flow meters are specifically designed for large diameter pipes. With up to eight flow sensing points in the flow stream, the device provides highly accurate and repeatable flow rate measurement, despite the traditional pitfalls of large diameter pipes such as distorted flow profiles and lack of straight runs.
The thermal flow meter has no moving parts or orifices to foul or clog. They provide a solution for large diameter pipes with fluid temperatures of up to 850°F, answering needs in stacks and flues, air ducts, air feed intakes and other HVAC applications.
The meter features dual 4-20 mA outputs with HART and Modbus communications as well as optional Foundation Fieldbus or PROFIBUS compatibility. The large LCD display provides advanced features including data logging and calibration self-checks.