U.S. Navy Explores Using Blockchain to Control 3-D Printing
Peter Brown | June 27, 2017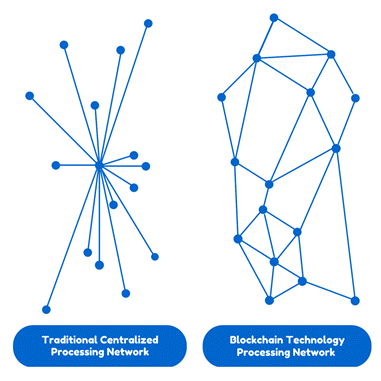 Traditional networks versus blockchain networks. (Source: DON)The U.S. Department of the Navy (DON) will conduct a series of experiments using blockchain technology to securely share data between additive manufacturing sites, as well as help secure the digital thread of design and production.
DON looked into blockchain technology for use in Naval Additive Manufacturing because it is secure and capable of securely sharing data throughout the manufacturing process — from design, prototyping, testing, production and disposal — a critical necessity in 3-D printing parts for the military. DON says blockchain will help in forming the future of advanced manufacturing initiatives.
Blockchain is a distributed database originally used for the cryptocurrency Bitcoin. Data is shared through peer-to-peer connections in a way that each block is a unique record that gets added to the end of the chain. The records are permanent and are unable to be modified. The bond creates trust between all members of the chain and removes the need for third parties to handle transactions or any other transfer of information.
Additive manufacturing has become a critical technology for the navy in the production of gear and equipment, helping to increase material readiness. However, it has also created a greater potential for vulnerabilities, making the need for cryptographically secure, traceable, immutable and controllable data flow very important, DON says.
After the series of experiments with blockchain, DON will issue a report in September on its findings that will show the practicality of using the technology in a controlled environment and how the technology will help secure additive manufacturing in naval operations.