Is Laser Engraving Here to Stay?
June 26, 2017
Sponsored Content
Sponsored content
Laser engraving has transformed from a niche technology used by a handful of businesses and craftspeople to a widely-used method for designing many aspects of one's surroundings. Its ubiquity was certainly fueled by innovations like the Epilog Zing, the industry's first low-cost, entry-level CO2 laser engraving system.
Nearly 10 years have passed since the Epilog Zing was launched and since then laser engraving has taken hold in a myriad of markets around the globe, finding its way into applications too numerous to count. While it's certainly logical to assume that laser engraving is here to stay, a closer look at a few of the top applications for the technology helps to underscore that point.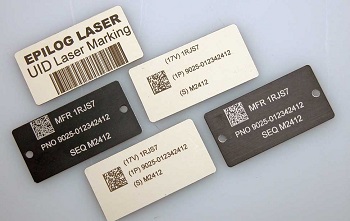 All types of barcodes, serial numbers and logos can be engraved with the laser. (Source: Epilog Laser)Deterring forgery and theft. This is one of the most valuable applications of laser engraving, with implications for businesses large and small, government organizations and personal users. The ability to permanently add a name, serial number, company logo or other identifying mark to just about any type of material you can imagine is a powerful tool in the fight against counterfeiting and theft.
Personal or corporate-supplied items such as laptops, tablets and cell phones can be laser-engraved for tracking; the technology makes it possible to readily meet a variety of industry regulations for identification of components, parts and products. Company ID cards can even be created with multilayer formatting that alters the color of lower-layer pigments without affecting the transparent top layer, producing high-quality, tamper-proof images and text.
Some items that are the property of the government require unique identification (UID) information for traceability and accountability; the UID program encompasses bar codes, data matrix codes and human-readable text, all of which can be easily and inexpensively achieved with laser engraving.
Increasing personalization. The world we live in today is all about celebrating our diverse identities, so it's no surprise that we would want our personal effects – from our handheld technologies to our home décor – to reflect that. Laser engraving allows people to inexpensively create personalized electronics cases, one-of-a-kind wedding favors from champagne flutes to chocolate bars, and 3D-relief carvings that must be seen to be believed.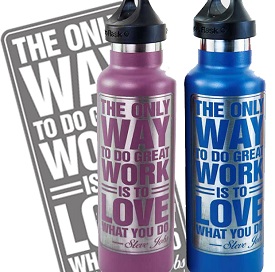 Powder-coated water bottles customized with an Epilog laser. Background shows a downloadable stencil file from the Epilog library. (Source: Epilog Laser)Small businesses, too, can leverage affordable laser-engraving technology into putting their stamp onto promotional items, from clothing and fabric items to rubber stamps to engraved pens – and set themselves apart from the competition.
The Maker Movement. In an era where all manner of how-to information is at our fingertips, the ranks of independent inventors, designers and tinkerers are swelling like never before. Epilog, with its strong commitment to hobbyists, has long been a supporter of the movement. It's a natural fit – the laser is a vehicle for transforming your ideas into real-world creations. It's also a symbiotic relationship — as the Maker Movement grows, so too does accessibility to laser-engraving systems that can be found in fabrication labs, school classrooms and "maker spaces" of all kinds.
Epilog offers a growing free library with downloadable project files for makers to create on their lasers. The company also has a presence at numerous gatherings, known as "Maker Faires," each year and has sponsored some of the largest ones from the beginning. A quick look around at any of these will give you ample information to answer the question of whether laser engraving is here to stay. The answer is a resounding "yes."