Finding middle ground: Epilog Fusion Edge
March 19, 2021
Sponsored Content
For more than three decades, Epilog Laser has provided a broad range of laser cutting and engraving systems to a diverse customer base. Its compact, entry-level Zing Laser series has served a market niche replete with home-based hobbyists and small business owners, while its large-format, high-end Fusion Pro series has served a growing manufacturing market with the fastest engraving in the industry.
What's been missing, however, is a middle ground that combines high-end features with the affordability, convenience and transportability of a compact system. That is, until now — the company has recently announced a game-changing system designed to offer the best of both worlds: the Fusion Edge series.
The new line offers features previously available only in large-format machines, such as fast engraving, 5G acceleration, precision on-screen artwork positioning and a touch-screen display. At the same time, it is designed with a work area that is either 24 in x 12 in or 24 in x 24 in.
Here's a closer look.
Form factors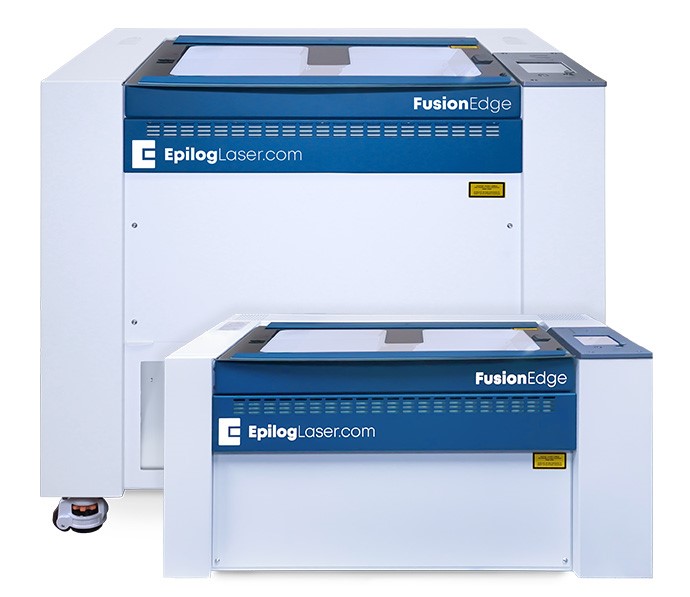 Figure 1: The Epilog Fusion Edge series is comprised of a compact desktop system, the Fusion Edge 12, and a larger standalone system, the Fusion Edge 24. Source: Epilog Laser The Fusion Edge 12, with a 24 in x 12 in (610 mm x 305 mm) work area and maximum Z-depth of 7 in (178 mm), is a compact desktop system weighing 138 lb (63 kg). It is available in 30 W, 40 W, 50 W or 60 W carbon dioxide (CO2) laser tube configurations. The Fusion Edge 24 is a larger, standalone system weighing 225 lb (102 kg) and offering a 24 in x 24 in (610 mm x 610 mm) work area and 10 in (254 mm) maximum Z-depth. The larger model also adds an 80 W CO2 laser tube configuration to the range of available options. With greater power comes the ability to cut more deeply in a single pass, and to engrave more quickly in some materials; Epilog offers more information on wattage choices here.
Generally speaking, all wattage options offer the ability to cut and engrave on a wide variety of materials, including acrylic, fabric, , leather, paper, plastic, rubber and wood. Some bare metals, such as stainless steel, brass and titanium, can be marked when coated with a metal marking solution. Materials such as ceramic, glass and marble can be engraved, but not cut.
The Fusion Edge 12 is also available in a 30 W fiber laser configuration that takes the place of the CO2 laser tube. Fiber lasers provide material capabilities not available with standard CO2 lasers, such direct etching onto bare metal with no solution required. More information on metal marking is available here.
Speed
Fusion Edge machines can engrave at 120 inches per second (IPS), which is equivalent to 3.05 meters per second (MPS). Higher speed means faster production — something that could prove invaluable to a laser engraving startup starting to field a rise in demand.
Models in the Fusion Edge also derive a boost from 5G acceleration, which allows the machines to reach top engraving speeds in less time. In the real world of fast-paced production, this translates to increased throughput.
Moreover, both capabilities together add up to the fastest available engraving in the industry in a compact format.
Camera system
Epilog's trademarked IRIS Camera System is designed for fast and precise on-screen positioning of artwork. The system employs overhead cameras — one in the Fusion Edge 12, two in the Fusion Edge 24 — to provide a real-time view of the work area. Once the object to be cut or engraved is placed on the laser bed, a user can place artwork directly onto the work area image with drag-and-drop functionality. A separate feature, Job Trace, enables users to get a preview of where a job will be engraved or cut onto a material, and a Red Dot Pointer is available for positioning assistance via visible laser beam. The IRIS Camera System allows cut lines to be duplicated, resized or selected as needed for accuracy.
In addition, the process of placing artwork onto the image can be performed in reverse: Users can copy the live image and import it into graphic software, where it will serve as a visual guide for fine-tuning artwork prior to engraving.
While easy to use, the IRIS Camera System represents an industry-first technological innovation. When rolled out in 2019 as part of the Fusion Pro series, the system introduced high-end camera location technology to the affordable laser market. In a practical sense, by reducing job re-runs and minimizing wasted material, the system has the power to positively impact the bottom line for any business.
Additional features
The features described above would likely be enough to justify the introduction of the Fusion Edge series as headline news, but Epilog did not stop there. The line also incorporates touch-screen control, a high-end feature that allows users to perform functions directly on the machine: examples include auto-focusing, settings modification, and job selection and repeat. Users may also elect to save regularly run jobs internally to the laser, which improves job management and preserves data integrity; the system's 1 Gb RAM provides ample room.
The Fusion Edge can also be networked across a business landscape via built-in 10Base-T Ethernet, USB or wireless capabilities. Its trademarked SAFEGUARD system is designed to keep the machine clean and dust-free via side bellow enclosures, a fully covered x-axis assembly and a covered lens assembly. Other niceties include quiet cooling fan operation, suitable for office environments; an air assist feature that directs air to the cutting surface, removing heat and combustible gases from the point of laser contact; a trademarked, beam-enhancing optical design that provides high-resolution engraving; and a metal/ceramic CO2 laser tube design that offers high beam quality, long life and low recharge costs. High-quality system material choices can also be seen in the self-lubricating, dual-block stainless steel bearing design, which offers rigidity and vibration reduction in place of the inevitable wobble and short lifespan associated with plastic bearings; in the high-speed, continuous-loop brushless DC servo motors that provide motor control, employing rotary encoding technology for precise positioning; and in the advanced B-style double-wide Kevlar precision drive belts.
Accessories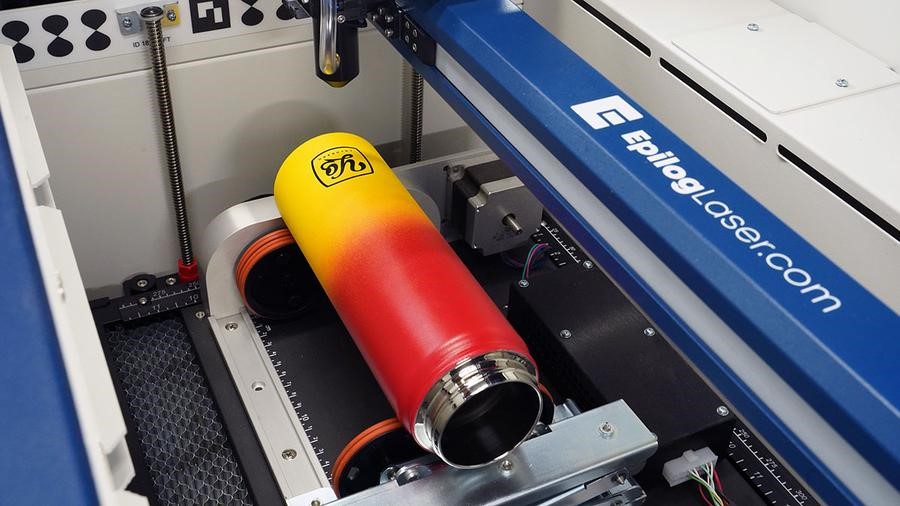 Figure 2: Epilog's 'rim-style' rotary attachment is an optional accessory that adds the ability to engrave cylindrical items to the Fusion Edge line. Source: Epilog LaserAs with other Epilog laser lines, the Fusion Edge series is compatible with a range of accessories designed to expand capabilities. Currently available are a "rim-style" rotary attachment that adds the ability to engrave cylindrical items; an air assist pump that enhances the function of the built-in air assist feature, enabling cleaner cuts; and photo engraving software designed in conjunction with technology corporation CADlink.
Epilog is also developing additional accessories that will be available soon, including a precision, three-jaw chuck rotary attachment; a specially designed wheeled cart to enhance the transportability of the Fusion Edge 12; and additional lens options. The Fusion Edge series employs a standard 2 in lens able to produce resolutions ranging from 75 to 1,200 dpi; a 1.5 in lens assembly, which will enhance that resolution range, offering etching and engraving of extremely small fonts. A 4 in lens will also be available; by producing a focused beam over a longer vertical distance, it is well-suited for engraving recessed object areas and for cutting through thick materials.
Why Epilog?
Epilog has a sterling reputation for customer support, which is evidenced in a look at its testimonials and customer success stories. The company offers an extensive online knowledge base, free online training and even a Facebook fan page for how-to discussions, trading project ideas and the like. All of its products are also designed and built within a single facility in the U.S., and vigorously tested prior to shipping.
Moreover, Epilog has carved out a leadership niche in the small- and medium-sized laser market through its dedication to innovation, and its commitment to designing with high-quality components to ensure durability and low lifetime ownership costs. The new Fusion Edge series is a case in point, bringing innovation to the forefront through its integration of high-end features in a compact form. The long-anticipated "middle ground" system has arrived, and customers need no longer wait to begin exploring it.
Among Epilog's extensive video collection is this introduction to the Fusion Edge series, as well as this new, in-depth exploration.
Contact Epilog to learn more.