Opportunities for preventing or limiting the flooding of subway tunnels are sought by the U.S. Department of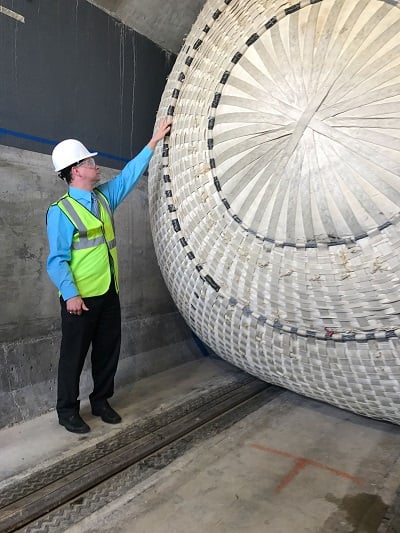 Quick inflation and extreme strength of the plug's material hold back water that might enter a subway tunnel during a flood. (Source: DHS)Homeland Security's Science and Technology Directorate. Such events are costly and deadly: in 1992, Chicago experienced a tunnel flood that led to nearly $2 billion in damage to city property. New York City's extensive subway system has experienced a number of floods in recent years, including massive flooding that closed seven tunnels during Hurricane Sandy in 2012.
In response to this challenge, a giant, inflatable structure designed to prevent flooding in subways has been developed and demonstrated inside a full-scale, mock subway tunnel. The balloon-like Resilient Tunnel Plug is nearly filled with pressurized air in under five minutes to create a flexible but extremely strong barrier. Full inflation is complete in less than 12 minutes. The live demonstration continued with the plug holding back simulated floodwater at 11.5 pounds per square inch pushing against it.
The U.S. Department of Energy's Pacific Northwest National Laboratory helped develop the Resilient Tunnel Plug in partnership with ILC Dover and West Virginia University for the Department of Homeland Security's Science and Technology Directorate.
The plug, made from a liquid crystal polymer called Vectran®, was developed to provide security to transit systems as protection from flooding, primarily in subways, in the event of a terrorist attack or natural disaster. In the event of flooding, the plug would rapidly inflate, holding back a tunnel full of floodwater, keeping citizens and the transit system assets safe.