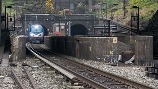 The U.S. Department of Transportation's Federal Railroad Administration (FRA) published a Draft Environmental Impact Statement (DEIS) review for the Hudson Tunnel Project between New York City and New Jersey.
The DEIS identifies the project's preferred alternative, which includes constructing a new tunnel, refurbishing the existing ones and preserving the current functionality of the Northeast Corridor's (NEC) Hudson River rail crossing between New Jersey and New York.
(Read "Engineering a Rail Tunnel to Manhattan.")
A final EIS is expected to be issued in March 2018.
The existing NEC rail tunnel beneath the Hudson River, known as the North River Tunnel, is used by Amtrak for intercity passenger rail service and New Jersey Transit for commuter rail service.
(Read "New Hudson River Rail Tunnels Get a Boost as Agreement Is Reached.")
The federal rail agency states that the preferred plan includes two new rail tubes in a single tunnel beneath the Hudson River. The new tunnel is expected to maintain the existing level of train service while the North River Tunnel tubes are taken out of service one at a time for rehabilitation. Once the North River Tunnel restoration is complete, both old and new tunnels will be in service, providing redundant capability.
The project may cost in the range of $11.7 billion to $12.98 billion. It will be the responsibility of the project sponsors to identify their funding sources and plan.
Three public hearings on the findings are scheduled for August 1st, August 3rd and August 10th.