More Crews Head to Puerto Rico for Grid Repair Work
David Wagman | November 03, 2017
Emergency utility crews were due to be sent to Puerto Rico the week of Nov. 6 from New York State, including 350 utility personnel and 220 bucket trucks and special equipment.
New York is also deploying a Tactical Power Restoration Team [pdf] to Puerto Rico that includes 28 engineers and 15 damage assessment experts to help supervise and coordinate the restoration of the electric distribution system in the 27 sections of the PREPA power grid.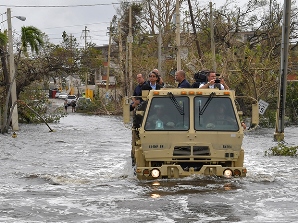 New York Power Authority officials inspected storm damage in the days after Hurricane Maria hit Puerto Rico. Source: NYPAThe deployment builds on the previous deployment of 20 New York Power Authority power experts and two Department of Environmental Conservation drone pilots who inspected and assessed 11 power plants and over 340 substations in the immediate aftermath of Hurricane Maria.
(Read "PREPA Asks APPA and EEI for Help in Puerto Rico.")
Fluor Contract
In mid-October, Fluor Corp. was awarded a contract by the U.S. Army Corps of Engineers Huntsville (Alabama) Engineering Center to help restore electric power to Puerto Rico. The six-month single award task order is valued at approximately $240 million.
An earlier contract worth $300 million was awarded by the Puerto Rican Electric Power Authority as a no-bid contract to Montana-based Whitefish Energy. That contract was pulled after objections were raised to its terms and alleged ties to Trump Administration officials. Whitefish is seeking $10 million in compensation for work it says it performed under that contract.
On Nov. 2, governors Andrew M. Cuomo of New York and Ricardo Rosselló of Puerto Rico met with the Rockefeller Foundation, Ford Foundation and Open Society Foundations, which announced an effort to help the U.S. territory better assess storm damage in order to secure sufficient federal disaster aid for the island's long-term recovery.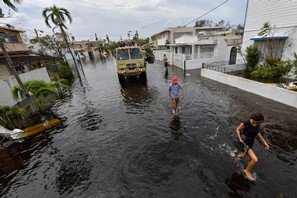 An assessment report is due to be completed by Dec. 1. Source: NYPAUsing technical experts and in consultation with businesses, nonprofits and other leadership from the island, this group will work to assess damages suffered and costs to rebuild its infrastructure.
Assessment Report
The work will assess housing; critical capital infrastructure, such as the electrical, water and the telecommunications systems; roads and bridges; and social infrastructure like schools and hospitals. Among other factors, the final assessment will take into account not only physical and economic loses, but the cost to improve and strengthen basic systems. The product of this work will be a report of damage and estimated rebuilding costs for consideration by Congress and the Administration in December.
Additional partners include AECOM, Deloitte, Columbia University, Stony Brook, the New York Power Authority, the Division of Homeland Security and Emergency Services, the New York State Division of Homes and Community Renewal, Electric Power Research Institute, Smart Electric Power Alliance, Con Edison and Con Edison International.
Learning from Hurricane Sandy
Cuomo and Rosselló also surveyed areas impacted by Hurricane Sandy to provide the Puerto Rican delegation an understanding of the recovery process and best practices for long-term rebuilding.
The projects surveyed include:
• Manhattan: Reconstructing the subway station that was entirely submerged in seawater at South Ferry.
• Staten Island: Restoring the natural habitat of the Oakwood Beach community with voluntary buyouts and building protective infrastructure, including a seven-mile-long elevated promenade with recreational amenities.
• Brooklyn: Strengthening defenses against storm tides to safeguard Coney Island
• Queens: Reconstructing the Breezy Point neighborhood following a fire and flooding.
• Long Island: Rebuilding the boardwalk, fortifying the shoreline, and elevating homes in the Long Beach community.
• Long Island: Elevating 12 power substations and constructing a new smart grid at the LIPA E.F. Barrett Substation.
• Long Island: Transforming and modernizing the Bay Park Sewage Treatment Plant in East Rockaway that serves more than 500,000 residents.
• Queens: Constructing new rail track for the Long Island Rail Road at Broad Channel.
• Queens: Installing eight new floodgates on underwater tunnels, including two on the Queens side of the Queens Midtown Tunnel.