Hot Tests Begin at Radioactive Solid Waste Facility
S. Himmelstein | June 10, 2017
The Ignalina Nuclear Power Plant (INPP) in Lithuania has taken another step forward in the decommissioning process with the start of hot trials, using radioactive materials, of the new Solid Radioactive Waste Management and Storage Facility. The development was announced by the European Bank for Reconstruction and Development (EBRD).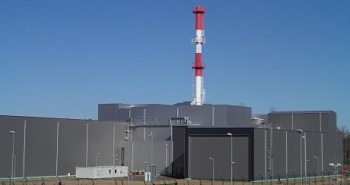 The SWMSF facility at Ignalina (Image: EBRD)
Known as the SWMSF B2/3/4 Project, the facility will provide INPP, which was shut down in 2009, with the means to retrieve, characterize, sort, transport, pack, and store the short- and long-lived radioactive solid waste accumulated during power plant operation as well as waste generated during the decommissioning process. It was built by Germany's Nukem Technologies at a cost of about €200 million ($224 million USD).
The waste management and storage system complies with the new requirements of the laws of Lithuania, EU standards and IAEA recommendations. After the trial period, industrial operations are scheduled to begin in June 2018.