The future of two big nuclear power plants is cloudy after they fell short in an annual auction for electric generating capacity to serve millions of customers in parts of the U.S. Mid-Atlantic and Midwest.
The Three Mile Island (TMI) and Quad Cities nuclear plants did not clear in the latest PJM capacity auction.
In a statement, PJM says that its 2020/2021 Reliability Pricing Model base residual auction cleared a total of 165,109.2 MW of unforced capacity representing a 23.9% reserve margin, well above the targeted 16.6% reserve margin. The auction attracted some 2,350 MW of new combined cycle gas resources.
Capacity auctions are held annually by grid operator PJM to ensure enough power generation resources are available to meet demand in its region that covers all or part of 13 states and the District of Columbia.
TMI Unit 1 failed to clear the past three PJM base residual auctions, according to Chicago-based Exelon, which owns and operates the plant. The utility says that TMI remains "economically challenged as a result of continued low wholesale power prices and the lack of federal or Pennsylvania energy policies that value zero‑emissions nuclear energy."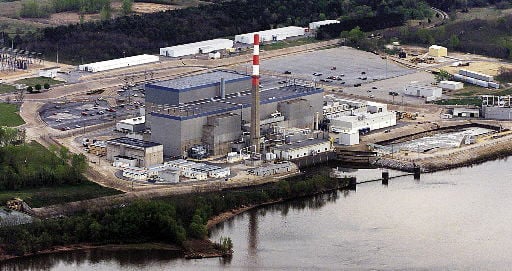 Quad Cities nuclear station in Illinois. Exelon says it has been working with stakeholders on options for TMI's continued operation. The nuke has not been profitable for five years.
Three Mile Island Unit 1 is a pressurized water reactor designed by Babcock & Wilcox. It has a net generating capacity of 852 MWe. The unit entered service in 1974 and is licensed to operate until April 2034. Unit 2 suffered a partial meltdown in March 1979 and its reactor core was removed from the site.
The utility says it "remains fully committed" to keeping the Quad Cities open. However, it said that Illinois' Future Energy Jobs Act Zero Emissions Credit program must be implemented "as expected" and that Quad Cities is selected to participate.
The act was signed into law in December 2016. Quad Cities has yet to be selected to receive credits under the program, says Joe Dominguez, Exelon's executive vice president of Government and Regulatory Affairs and Public Policy.
Quad Cities operates two General Electric boiling water reactors with a total gross electric capacity of 1,880 MW. In June 2016 Exelon announced plans to close Quad Cities in 2018. In December 2016 the company said it would keep the plant open following passage of the Future Energy Jobs Bill.
Playing the Green Card
That bill was part of a wider effort by Exelon to help polish the green credentials of its fleet of nuclear power plants.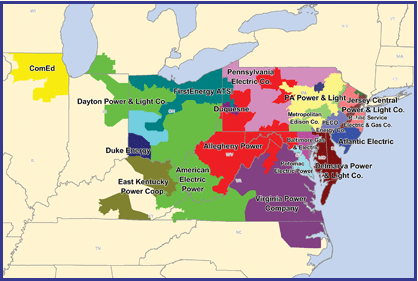 PJM reaches from the Atlantic Ocean to the Mississippi River. Credit: FERCEven though Illinois is home to 11 reactors at six different stations that collectively produce around 50% of the state's power, legislators failed early in 2016 to pass a measure that included a zero-emission benefit.
That prompted Exelon to say it would close its Clinton Power Station in June 2017 along with Quad Cities. The utility said the plants lost a combined $800 million in the past seven years, despite their being two of its best-performing plants.
Altogether, some 1,500 jobs were at risk, along with almost 3,000 MW of baseload generating capacity.
Legislators seemingly got the message and, in November 2016, approved a zero-emission bill that could keep the two Illinois plants operating for another 10 years. Senate Bill 2814 made changes to the state's renewable portfolio standard and also included financial support (some call it a bailout) for the Exelon nuclear units.
The support amounts to around $235 million a year in ratepayer subsidies to Clinton and Quad Cities via the zero-emission standard. The credits would be available for 10 years, ending right about the time the plants' federal operating permits are set to expire.
Meanwhile, in New York State, regulators in August 2016 approved a plan to offer zero-emission credits for three nuclear power plants in upstate New York. The plan will pay nuclear plant operators for every megawatt-hour of carbon-free electricity they generate. The subsidy could provide as much as $7.6 billion over 12 years to the three nuclear plants' operators, including Exelon.
A zero-emission-credit plan was being considered this spring by legislators in Ohio, where nuclear plants operated by FirstEnergy would have benefited. It was tabled in May due to a lack of support. And in Pennsylvania, legislators formed a first-of-its-kind nuclear advocacy group to work on issues aimed at protecting the state's nuclear assets. Those assets include the remaining reactor at Three Mile Island.
Exelon says its other nuclear plants in PJM cleared in the auction for the 2020‑2021 planning year. The Oyster Creek nuke in New Jersey did not participate, as the plant is set to retire in 2019.
This is the fifth delivery year for which capacity auctions have been held under "capacity performance" reforms ordered by the Federal Energy Regulatory Commission to increase power plant reliability and strengthen the region's energy supply. The reforms help recognize nuclear energy for its year‑round reliability in all weather extremes. The auction results take effect June 1, 2020.