New Pipe Clamping Solutions
S. Himmelstein | May 22, 2017
Two new products from Hydra-Zorb Co. (Auburn Hills, MI) expand its solutions for clamping pipe or tube in the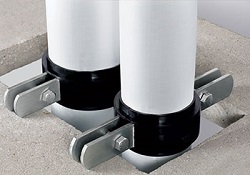 The Klo-Shure Titan Insulated Riser Clamphydraulic, pneumatic and HVAC/R industries.
The Bronco Tube and Pipe Saddle uses high-strength plastic that can snap into channels of any depth, offering stability and preventing damage to the insulation from pipe movement. The product is available in several sizes and either black or white to match the insulation color.
The Klo-Shure Titan Insulated Riser Clamp series is made to fit vertical pipe runs and create a clean vapor barrier after insulation is installed. Titan risers are molded with high-strength plastic with a crush-resistant design and a vertical load rating range of 1,000 - 2,000 lbs.