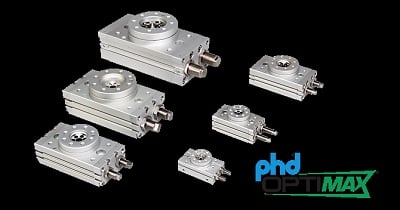 Image credit: PHD, Inc.PHD's Optimax® Series ORQ pneumatic compact rotary table provides increased output torque with a double rack and pinion system. Use of the double rack and pinion drive system also eliminates backlash at the end of rotation.
The pneumatic rotary table features standard thru mounting hole in its body providing versatility and ease of mounting. It also features standard angle adjustment screws with internal shock pads, standard magnets on its pistons for externally mounted switches and a hollow pinion that allows pass thru from the back of the unit to the output hub.
The actuator is available in six bore sizes from 12mm to 40mm, has an operating temperature of 0 to 60 degrees Celsius, a rated life expectancy of three million cycles and a maximum operating pressure of 10 bar for the larger units.