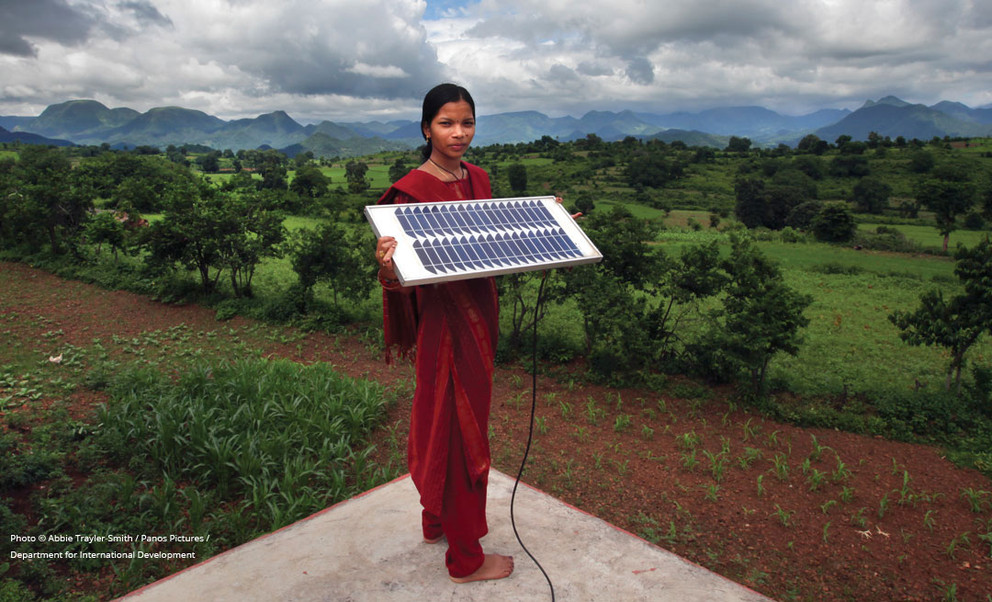 Affordable solar cells would power communication devices, provide sterilization of medical equipment and offer hygeinic cooking in underdeveloped economies. Image credit: Abbie Trayler-Smith/Panos Pictures/Department for International DevelopmentWith an estimated 1.2 billion people living without electricity worldwide, researchers at Penn State University began investigating ways to provide them with what many of us take for granted.
The solution may come in the shape of a simple and inexpensive solar panel developed by a team of Penn State researchers led by Akhlesh Lakhtakia, Charles Godfrey Binder Professor in Engineering Science and Mechanics at Penn State.
"The major difference between people who are wealthy and who are poor is this: The wealthy can afford their energy sources and have greater access to them," said Lakhtakia. "Because poor people can't afford their energy resources, they lack the wherewithal to improve their economic status. They don't need the most efficient sources. They need affordable ones and a helpful nudge to improve their lives. That motivated us in our research."
Generally, solar cells are opto-electronic devices that contain layers of semiconductors that trap and absorb solar radiation (photons). The absorbed photons create electron-hole pairs (EHP); the electrons and holes are sent in opposite directions to generate an electric current.
However, this process is problematic because of recombination, when an electron recombines with a hole, thereby reducing the initially generated current. Lakhtakia and his team set out to inexpensively create a solar cell that could enhance photon absorption, maximize EHP generation and minimize recombination.
"The majority of commercial solar cells employ silicon as a semiconductor, which is very efficient at approximately 25 percent and readily available, but also very expensive in underdeveloped economies," said Lakhtakia. "These cells contain three types of semiconductors, so their complex structure adds to the manufacturing cost."
While investigating less-expensive solutions, Lakhtakia found a solar cell structure called a Schottky-barrier solar cell, which only needs one kind of semiconductor to be efficient.
"Instead of using silicon with the Schottky cell, we explored materials that could give us some advantage with their semiconducting properties," said Lakhtakia. "We chose indium gallium nitride, an alloy in which the proportions of indium and gallium can be varied in the thickness direction."
Adjusting that proportion intermittently and including a periodically corrugated metallic back reflector, the team realized that it could increase photon absorption by intensifying the electric field at optical frequencies inside the semiconductor. The team also found an increased EHP-generation rate and a reduced recombination rate to generate more current, thus raising the efficiency rate from 13 percent to 17 percent—an acceptable level for everyday power usage.
With this simple design, less technical expertise would be necessary to produce the cells, thereby reducing the cost. Additionally, the reduction in the types of semiconductors would reduce manufacturing costs, and the cells could also be deployed and installed with minimal resources.
"Sometimes, you have to solve societal problems not in the most efficient way but in the most economical way," said Lakhtakia. "These solar cells could be deployed widely in energy resource-poor areas and provide enough electricity to help individuals and families meet their most basic human needs."