New Thermal Imaging IR Thermometer from RS Components
Ken Thayer | May 03, 2017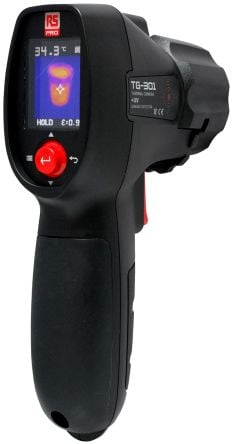 RS Pro TG-301 Thermal Imaging IR ThermometerRS Components, the number one high service distributor of electronics and maintenance products across Europe and Asia Pacific, recently announced their new RS Pro Thermal Imaging Infrared (IR) Thermometer.
The new RS Pro TG-301 depicts a heat map on a 160-by-128 pixels, 1.77 inch TFT-LCM display for easy troubleshooting. The user can quickly view hot and cold temperatures spots that cannot be seen by the human eye. The RS Pro features a 16,384 pixel (128-by-128 pixel) image after interpolation that can be downloaded to an SD memory card or via a micro USB connection for storage.
The distance/spot ratio is 30-to-1 with precise laser indication. The temperature display resolution is 0.1 degrees Celsius with an accuracy of +/- 1.5 degrees Celsius or +/- 1.5% of the reading. Temperature can be displayed in Fahrenheit or Centigrade.
The thermometer also has a bright flashlight with five white LEDs and can be used as an ultraviolet (UV) refrigerant leak detector, with five UV/blue LEDs.
Measuring 51 millimeters wide, 185 millimeters long and 100 millimeters high, the ergonomic design features a pistol grip and is supplied with a soft carry holster, a 2 gigabyte secure digital (SD) memory card, three AA alkaline batteries and an instruction manual. The IR thermometer runs on those three AA batteries, with a battery life of 12 hours.