A hydroponic "produce cultivation machine," designed and built by Rice University mechanical engineering students, could bring a weekly serving of fresh salad to places where outdoor gardening is difficult or impossible. The student team responded to a commission from Chalmers University of Technology in Sweden to craft a garden for the Chalmers "zero resource house."
The official challenge is to build a system that could provide one salad per week for a year in a 13-square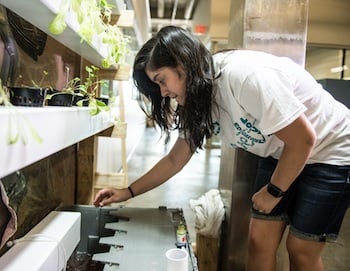 Dominique Schaefer Pipps tends to her team's hydroponic experiment. Image credit: Jeff Fitlow/Rice Universitymeter space. The system could not interfere with apartment residents' daily lives—no unpleasant smells or noises, or lights—and it had to be easy and economical to use and maintain.
The project kicked off in the fall of 2016 with the construction of an initial prototype and will finish in May 2017. "The emphasis is on using as few resources as possible, using little energy and wasting nothing," said Sanjiv Gopalkrishnan. He and Schaefer Pipps, along with team members Jared Broadman and George Dawson, are all seniors in mechanical engineering at Rice.
The team's final design is an eight-foot-tall, wood-framed tier with six levels of square PVC pipes. Fifty-five gallons of water circulate through the system. The produce growing machine uses LED, rather than fluorescent, grow lights and consumes about 900 watts of power, roughly the equivalent of a microwave oven. Before shipping the machine to Chalmers, the student team will install sensors to monitor pH level, nutrients and temperatures.
The frame is ingeniously held together with pegs and friction, rather than nails and glue. This design makes the 90-pound system easy to put together, knock down and transport.
Chalmers last year commissioned Rice students to produce a variation on garbage disposals that makes it easy to separate water from plant waste for composting. Compost produced by the "BioBlend" device will fertilize the produce machine.
Rice's Oshman Engineering Design Kitchen hosts the project. Last week, the student team, who call themselves Lettuce Turnip the Beet, shared for Best Environment and Sustainability Engineering Design Award at Rice's Engineering Design Showcase.