The Final Frontier for Qualcomm Tricorder XPRIZE Winners
S. Himmelstein | April 14, 2017
Since 2012, the global Qualcomm Tricorder X PRIZE competition has challenged teams to develop a consumer-focused, mobile integrated diagnostic device inspired by the medical Tricorder of Star Trek® fame. All participating teams had unprecedented access to a dedicated U.S. Food and Drug Administration (FDA) help desk and extensive lab and human testing followed by six months of consumer testing.
The top prize of $2.6 million was awarded to the aptly named Final Frontier Medical Devices team from Basil Leaf Technologies, the Pennsylvania-based designers of DxtER. The device features an array of non-invasive sensors that collect data about vital signs, body chemistry, and biological functions. DxtER can diagnose and interpret a defined set of 13 health conditions to various degrees, while continuously monitoring five vital health metrics. An artificial intelligence-based engine learns to diagnose medical conditions by integrating knowledge from clinical emergency medicine with data analysis from actual patients.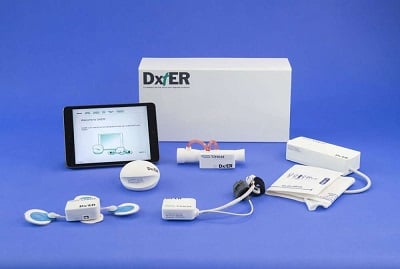 Final Frontier Medical Device's DxtER.
The second place Qualcomm Tricorder XPRIZE of $1 million was awarded to Taiwan-based finalist, Dynamical Biomarkers Group for a prototype which pairs diagnostic algorithms with analytical methodology in a user-friendly device, all controlled through a smartphone.
While the competition phase is over, XPRIZE and the Qualcomm Foundation announced several initiatives and additional award funding to support the two finalist teams, as well as four semifinalists, to scale the impact of their innovations through a first-ever post-competition series of investments.
Specifically, the post-competition initiatives announced included:
Facilitating the testing and R&D for continued Tricorder device development, including continuing the FDA support.
Securing relationships with global leaders in retail and supporting demand in the marketplace so that, upon proper regulatory approvals, the Tricorder device will swiftly be given international retail distribution.
Creating an educational feature-length documentary with an Oscar®-nominated director, as well as developing a nationally distributed museum exhibit that will foster conversation, public education and awareness to guide the understanding of how these devices can impact and change the future of health care for consumers around the globe.
The Qualcomm Foundation has committed $3.8 million toward promotion of the digital health ecosystem, including the continuation of consumer testing, guidance for the Qualcomm Tricorder XPRIZE teams, and support for further development of Tricorder devices. Specifically, the Foundation has requested a proposal for a $2.5 million grant to the University of California, San Diego, including the Altman Clinical and Translational Research Institute. The balance of the commitment will be distributed to other organizations.
An additional commitment by The Roddenberry Foundation to contribute $1.6 million towards the adaptation of the teams' Tricorder devices for use in hospitals and communities in the developing world.
A specific collaboration to provide the devices for use to a hospital in Mozambique, Africa.