Water-repellent Material is Durable, Self-healing
Nancy Ordman | April 04, 2017
A self-healing, durable water-repellent coating has potential applications, ranging from clothing to roofs to ships. In addition to waterproofing a ship's hull, the material could also cut down drag, reducing fuel use. This new material represents a breakthrough in water-repellent finished, where decades of research have failed to produce a truly durable product.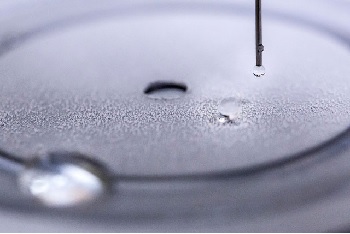 A water droplet bounces off a hydrophobic coating on a surface. Photo: Joseph Xu/Multimedia Content Producer, University of Michigan - College of EngineeringMaterials scientists at the University of Michigan developed the super hydrophobic coating, which is made of a mix of a material called "fluorinated polyurethane elastomer" and a specialized water-repellent molecule known as "F-POSS." The concoction can be easily sprayed onto virtually any surface, and has a slightly rubbery texture that makes it more resilient than its predecessors.
The research team exposed the material to an impressive range of potentially damaging conditions, including abrasion, burning, flattening, and chemical attacks. The coating heals itself when it loses surface molecules; replacement molecules rise to the top. Self-healing capability is limited only by the coating's thickness.
In an article in the journal ACS Applied Materials and Interfaces, the researchers provided a recipe that future scientists can use to tailor future coatings to specific parameters.
The discovery is being commercialized by HygraTek, a company founded by Tuteja with assistance from U-M Tech Transfer.
"Thousands of superhydrophobic surfaces have been looked at over the past 20 or 30 years, but nobody has been able to figure out how to systematically design one that's durable," said Anish Tuteja, U-M associate professor of materials science and engineering. "I think that's what we've really accomplished here, and it's going to open the door for other researchers to create cheaper, perhaps even better, superhydrophobic coatings."